Ever thought about how much load your loft ladder can hold up? Or how its step length can increase comfort and safety?
What are even the most space-saving loft ladders anyway?
Climbing a ladder is never safe if it is not sturdy. Reaching the loft using a regular loft ladder sounds normal because a house loft is not too high to raise concerns. But, you barely climb that ladder empty-handed or without load.
That's why you need the ladder to be strong and sturdy enough. But it's not always you get the chance to give up a lot of space for loft ladders. So in this guide, we reviewed the 7 best loft ladders for small spaces to minimize your toil in choosing one. Let's see why they are on the list, then.
Why Do You Need Loft Ladders For Small Spaces?
Reaching the attic with a spiral staircase or floating stairs is all good, but they occupy a lot of usable space.
If you are a very tall guy, you can reach the loft by standing on a stool. But when you carry the big boxes to store in the attic, the stool may not bear that heavy load and break. Or it can slip, leading to accidents. So, what's the safest option to reach the attic?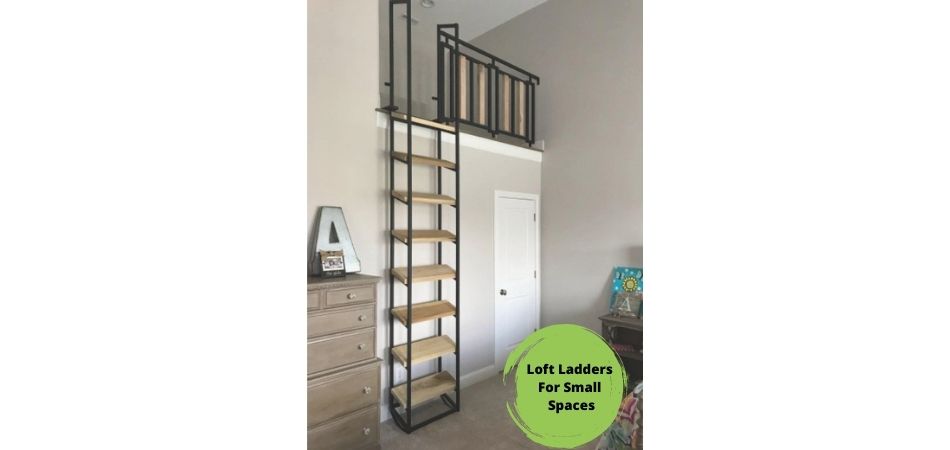 Using the best small space loft ladder is indeed helpful in that case. Just look at the points below, and decide whether you should use a loft ladder. We are sure you'll agree with us.
It is simple to install and easy to navigate inside the attic.
The squire shape door will fit the hatch. So when you don't need the ladder, you can fold it to save space.
Most loft ladders need 22″×54″ opening space depending on different brands and ladders.
It's more economical than installing regular stairs.
It will offer you extra room for casual use.
Most loft ladders are stable and can load 250 to 660 pounds. So it ensures your utmost safety.
Finally, it'll increase your room's interior and property value.
Comparison Chart:
[table id=1 /]
7 Best Loft Ladders For Small Spaces Reviews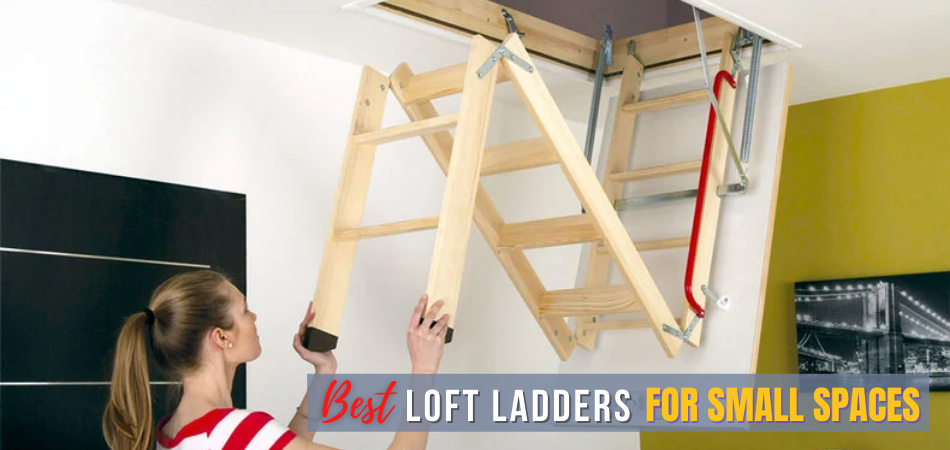 1. Louisville Wooden Attic Ladder – Best For Quality
The Louisville Ladder is one of the most popular loft ladders in the market. Its heavy-duty wooden craftsmanship is excellent, lasts long years, and is worth your investment.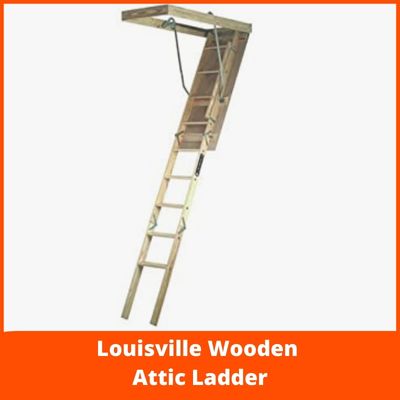 Build quality: The entire ladder is made of wood with highly splinter-prone pine. So you can sand it carefully by using a sanding block. The hinge parts are stamped steel made and flexible to adjust.
Rough opening: The rough opening space is essential to know how much space it needs when you unfold the ladder. This ladder requires 22½" to 54″ space for initial opening, which is good to use within a small area.
Ceiling height: You should know the exact ceiling height of your loft ladder to install it with your loft. It is perfect for a minimum of 7 feet to a maximum of 8 feet 9 inches ceiling height. When you have this range of loft height, you can easily occupy this ladder to your hatch.
Easy to install: You'll get the exact measurement for installing the ladder if you measure your attic corner to corner diagonally. You can easily install it by following the user's manual instructions. There you'll get all the information well described.
Maximum capacity: It can load a maximum of 250 pounds, whereas a 6'4″ tall guy's weight ranges from 156 to 197 pounds. That means you can climb this ladder without fear of breaking or being misplaced due to your heavy weight.
Simple opening and shut down: Once you open the door, the ladder itself pulls down quickly. And after completing your work, the door will also firmly shut and fit snugly into the ceiling.
Specifications
Material: Wood
Item Dimensions: 56Lx24Wx12H inches
Opening style: 22.5″ x 54″
Ceiling Height: 7′ – 8′ 9″
Size: 7′ – 8¾'
Landing space: 61″
Projection width: 66"
Item weight: 51 lbs
Supported weight: 250 lbs
Why Buy It?
It is a nice ladder with good looks and solid construction. But, if you are a heavyweight guy, you should be careful to keep your feet on the treads when climbing. Except for this, the ladder will be an unbelievable deal for a home attic with accurate dimension, quality, and price.
2. WERNER Aluminum Attic Ladder – Best Lightweight
We choose this Werner Ladder AA1510 AA1510B Ladder for those with really tight space and need a compact designed ladder. The three layers of the ladder will fit mostly in your attic and closets.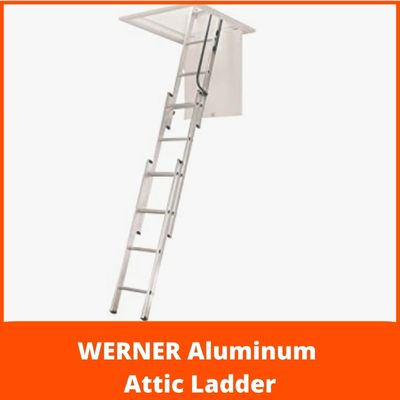 Construction materials: It is constructed with stainless steel and aluminum. So the rust won't catch the ladder, though you use it roughly, and it ensures its quality and durability. In addition, these materials make it lightweight, which is a plus point for pulling down or up the ladder while needed.
Rough opening: It is designed for small spaces, so it only needs 21″ to 36″ area for the rough opening. However, the three layers of stairs will reduce the opening space requirement. As a result, you can use it in a compact space when your shop or home is completely full of other products or belongings.
Installation procedure: The ladder is simple to install but requires a few carpentry skills. But, the positive thing is you'll get a step-by-step guideline or a video tutorial to install it. So that won't be a hard job to follow.
Ceiling height: The Werner Ladder comes with a telescoping design suitable for 7 feet to 9 feet 10 inches ceiling height. So by standing on the middle stair, you can reach both the loft and the assistant, who provides you with the things you want to store in the attic.
Maximum capacity: Like any other loft ladder, its maximum weight dealing capacity is 250 pounds. It can load this weight by ensuring all safety requirements. That means, when you climb the ladder and carry a big box with massive weight, it won't flick and make you nervous.
Easy to use: It is lightweight, so you can easily open and close it with an assistant pole. By securing its multiple stair hooks, you can enhance its length to reach the loft space to keep your things.
Specifications
Material: Aluminum
Color: Silver
Item Dimensions: 14Lx8.3Wx52.6H inches
Opening style: 21″ x 36″
Ceiling Height: 7′ – 9′ 10″
Item weight: 15.47 lbs
Supported weight: 250 lbs
Why Buy It?
It works like a charm to reach you to the attic of your hallways and closets. Though having rubbers would make it slip-resistant, you can prevent slippery falling using it carefully. It fits in a tight space and is simple to pull down and pull up without bothering others.
3. Louisville Aluminum Attic Ladder – Best For Highest Reach
Though a regular garage ceiling height is 7-8 feet, is yours above 10 feet? For this, you're in trouble getting your required height loft ladder. Relax! The Louisville Aluminum Attic Ladder will be the right one that you can choose.
Why do we suggest it for you? Here's the answer.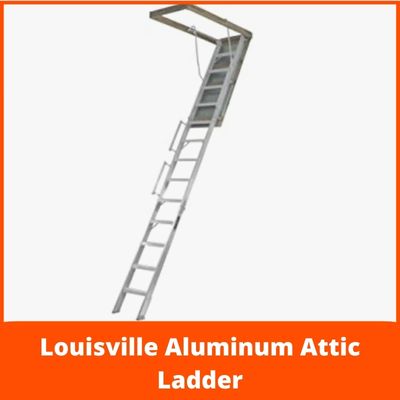 Ceiling height: It comes with the highest ceiling height in the loft ladders industry, which is 10′ to 12′. It also comes with a spacious hatch door to help you access the loft for storing heavyweight boxes.
Built materials: It is built with sturdy aluminum to make it strong and stable. Besides aluminum, it comes with heavy-duty hinges, EZ hangs strap system and all the installation kits. As a result, it is durable and offers you long-lasting performance.
Installation procedure: Installing a 10′-12′ loft ladder is definitely a 2-man task, but the company provides you with all installation instructions for your convenience. If you follow the instructions, it takes around 2 hours to complete.
Load capacity: Its maximum load capacity is 350 pounds. Let's do a simple math to justify its weight capacity. If you are a guy of 170+ pounds, you can carry almost 170+ pounds weight with you. And mostly you don't have to carry this weight. So it is entirely safe to use.
Safety standards: Louisville always prioritizes your safe and secure climb, which is why it meets ANSI and OSHA safety standards when most loft ladders like INTSUPERMAI won't meet the authority standards. So, you can rely on this brand for safe use.
Rough opening space: Sometimes, loft ladder opening space is a headache for a high ceiling with tight space. But, you'll need only 22.5″ x 63″ space to open it, which is general in most cases.
Specifications
Material: Aluminum
Item Dimensions: 120Lx 90Wx144H inches
Opening style: 22.5″ x 63″
Ceiling Height: 10′ – 12′
Landing space: 84″
Projection width:90"
Item weight: 63.8 lbs
Supported weight: 350 lbs
Why Buy It?
Easily reaching the highest ceiling, sturdily built, compact design are the reasons to buy it. Where heavyweight, using stool, and 2 hours installation are its shortcomings. But, when comparing its advantages and shortcomings, the advantages will win and make your buy worthy.
4. Telesteps Mini Telescopic Loft Ladder – Best For Telescopic Design
If you have limited horizontal and vertical space for loft ladder opening, then the Telesteps Telescopic Loft Ladder can be your perfect choice.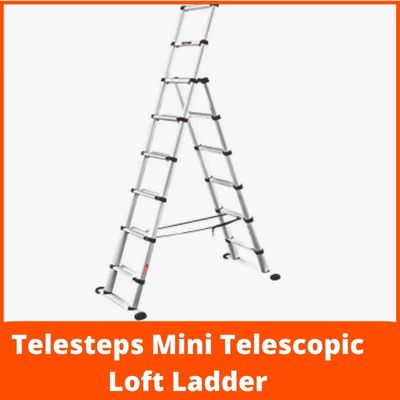 Slick mechanism: First, its slim design with three different feet treads will grab your attention to reach different ceiling heights. That means it will be your one solution, where you need 3 ladders for long and short heights.
Quality construction: The high-quality industrial-grade anodized aluminum, plastic, and rubber built on this ladder is quite sturdy. The aluminum is reinforced with glass fiber and plastic fittings to make it super sturdy. And the feet are made from angled rubber to ensure maximum surface grip. So the ladder won't slip when you climb.
Portability: The ladder is only 32 pounds, compact in design, and comes with an easy carrying handle. So you can carry it with you whenever and wherever you want. And most importantly, you don't face any hand fatigue moving it from one place to another because of its ultra-lightweight.
Easy to use: You don't have to install it in a fixed space like any other loft ladder. However, its broad and safe step treads are comfortable enough to stand to work for long hours. So you can stand on it and do your electronic work that is attached to your ceilings.
Space-saving storing: It is a win-win situation considering the space-saving facilities, as it needs limited space to use and store. After using the ladder, you can fold it to minimize its height and easily hide it behind your bed or wardrobe.
Specifications
Material: Aluminum, Plastic, Rubber
Item Dimensions: 11.22Lx 8.99W inches
Ceiling Height: 7'55"
Item weight: 31.97 lbs
Supported weight: 330 lbs
Why Buy It?
Initially, you face some challenges installing it, but that will be pleasant once you have done it. Except for that, you would love the ladder for its quality, easy-to-use facilities, robust durability comparing its price. So it'll be the right option for DIY or professional users.
5. FAKRO Insulated Steel Attic Ladder – Best For Durability
We choose the FAKRO LMS 66867 Insulated Steel Attic Ladder for those who wish to own a mid-range loft ladder with excellent build and finishing.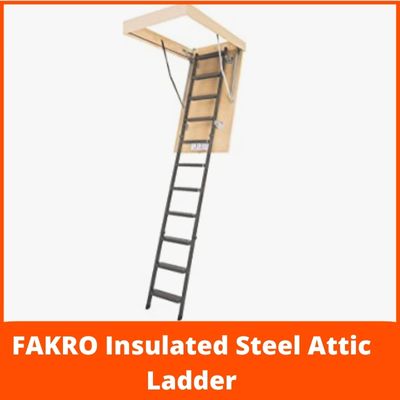 Used materials: FAKRO used pine wood to make its frame, which is the same quality as the USA southern pine and free from knots. It used steel to make hinges, clips, and rust-resistant hooks. Overall, you can mark its built quality 90 on 100.
Installation procedure: Besides quality construction, easy and simple instructions are also a mind-blowing feature when considering the loft ladder utility. The installation process of this ladder is easy to follow by watching its YouTube video. But, as it is a mid-weight ladder, you will need a helper to assist you when installing it.
Compact design: It comes with a 22 x 54 inches compact design to land the ladder. The hatch door opening and closing won't require too much space and won't wobble. So when you have a small space, it is not a concern to use it.
5.2 R-value: The full form of R-value is thermal resistance, and by knowing a loft ladder's R-value, you can determine how heat resistant it is. Here, FAKRO Insulated ladder's r value is 5.2, which means it won't damage due to medium heat flow, reduction, or convection.
Specifications
Material: Aluminum
Item Dimensions: 54Lx22Wx9H inches
Opening style: 22 x 54″
Ceiling Height : 7′ 11″- 10'1″
Landing space: 62¼ "
Projection width:73¼ "
Item weight: 65 lbs
Supported weight: 350 lbs
Why Buy It?
Its operation is perfect, and climbing is more secure and better than a step ladder. But the ladder width is not the same as in the picture. Otherwise, it's an excellent choice to enjoy many years of service.
6. FAKRO Insulated Attic Ladder – Best For Safety
The FAKRO LWP 66804 insulated attic ladder is one of the safest loft ladders there is. Besides, the adjustable and brown wooden ladder looks better for excellent finishing.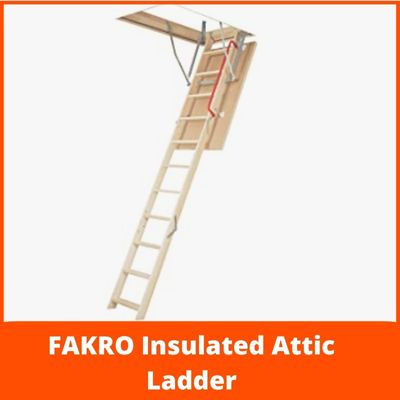 Quality built: The ladder is made with pine wood, stainless steel hinge, clips, and hooks. All the materials are exceptionally well and flexible to adjust with your attic door to ensure long-lasting performance.
Land space: It requires only a 25″ to 54″ opening area to land the ladder that will fit in a compact space. To get a rough idea, you can think of a round dining table that can accommodate five people to take their meal.
Maximum load and height: Its highest load capacity is 300 pounds, and it can reach the ceiling from 7 feet 10 inches to 10 feet 1 inch. So without any fear, you can climb the ladder with big boxes to store them in your attic.
Easy installation: If you have little carpentry skill, you can alone install the ladder by watching the YouTube video that the company made for you. But, if you don't have the skill, no problem. By taking your friends' help, you can do it. For your convenience, we've attached the YouTube video below.
Safe use: The sturdy legs with grooves of the ladder will grab the floor steadily, so it won't flick when you climb. The well-balanced stability offers you the highest support for safe use, and if one supporting hand holds the ladder from its bottom, it boosts your confidence to climb safely.
Specifications
Material: Wood
Item Dimensions: 121Lx54Wx25H inches
Opening style: 25″ x 54″
Ceiling Height: 7′ 10″- 10'1″
Landing space: 62¼ "
Projection width:73¼ "
Item weight: 62 lbs
Supported weight: 300 lbs
Why Buy It?
The three parts folding system makes it ideal to fit in a tight space. Though it won't come with mounting hardware, it is not that difficult to install, and after installation, you'll be impressed with the operation. So we will recommend it for all homeowners to enjoy safe access to the attic.
7. INTSUPERMAI Attic Wall Folding Ladder – Best For Wall Mount
If you like a wall mount ladder to avoid ladder pulling hassle, we suggest you choose the INTSUPERMAI Stairs Loft Wall Folding Ladder. It is entirely different but worth considering to reach the attic.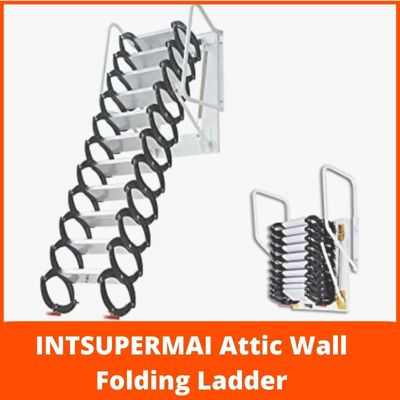 Built materials: This wall mount ladder is made with heavy-duty aluminum and alloy steel following electrostatic spraying technology. The material is anti-rust, anti-aging, and anti-corrosion. So you can use it for many years without any wear and tear.
Easy installation: The wall-hanging steel plates and brackets make the ladder installation process more accessible and simpler. It takes around 30 minutes to complete the 4 step process to installation.
Maximum ceiling height: There are 12 steps with 19*55″ to reach its maximum 11.15′ ceiling height. By reducing its step, you can adjust the height depending on your requirements.
Industry-leading load capacity: This ladder's highest load capacity is 660 pounds, and you'll rarely find any ladder with this load capacity. But, it's recommended to avoid multiple people climbing the ladder at a time to ensure safe navigation.
Versatile use: Once you have this ladder, you can use it to meet your multiple purposes. It'll be an excellent selection for an attic, warehouse, school, rooftop, hospital, and many other places where you need a ladder to reach.
Specifications
Material: Aluminum, Alloy Steel
Item Dimensions: 32Lx32Wx26H inches
Ceiling Height: 10′ -11.15′
Item weight: 180 lbs
Supported weight: 660 lbs
Why Buy It?
Maybe at first glance, it seems very expensive and heavyweight to you. But, when you consider all those incredible features, you find the price is ok to meet your versatile needs and fit in a small space.
Things To Consider When Buying Loft Ladders For Small Spaces
There are some crucial factors that you must consider while choosing your loft ladder. Here, we'll disclose them one by one for your convenience. Keep them in mind or take note to make your buying worthy.
Measure the available space
You'll find many-dimensional loft ladders on the market, but all are not suitable for your home. You have to measure your home's available space to pick the right dimensional ladder. When measuring your space, go through a step-by-step process.
First, measure your floor to the rooftop to know your entire home's height.
Then measure your floor to the loft ceiling to determine the maximum ladder height.
After that, measure your ladder opening to know how much space you'll need to open the ladder.
Next, measure the hatch space to know the ladder's easy folding and unfolding area.
Finally, measure loft to rooftop ceiling height and one side's length to know ladder storing space.
When you have all the values of your home space, you can check the manufacturer's specifications to justify which ladder you can accommodate within this space that serves your purpose.
Built Materials
Secondly, you have to consider the building materials of the ladder. Most loft ladder manufacturing companies used wood or aluminum to construct the ladders.
When choosing ladder materials, you should consider your floor's type, as when the ladder lands on the floor, it will be affected by its pressure.
If your floor is built with concrete or strong materials, you can choose an aluminum-built ladder. On the other hand, a wooden ladder will be the right choice if you have a laminated or vinyl floor.
Strength, Durability, And Noise
Wooden ladders are not as strong and durable as aluminum ladders. So if you need a super durable ladder, you must consider an aluminum-made ladder.
But, the aluminum ladder will make more noise than a wooden ladder while you fold and unfold its foot threads.
However, if you prefer lightweight and easy-to-use, then a wooden ladder is better.
Weight Capacity And Foot Threads Space
The box size you want to store in the loft will define how much weight you add to your body weight when climbing the ladder. So if you need to store bulky boxes, cartoons, and other things in the loft, you must choose a ladder that can load heavy weight without wobbling.
In addition, when you carry a big box, you can't concentrate on your footsteps while changing the stairs. So the more expansive foot threads are a plus point to carry the heavy boxes easily. The wide-foot threads are also crucial for a big and heavy guy with wider feet than ordinary people.
Easy Installation And Use
Most people want to install the loft ladder by themselves rather than hiring a professional carpenter. So the ladder which is easy to install is more popular than the hard-installed ladder. Though you install the ladder once, you can manage a professional if you can't install it yourself.
But there is no way to ignore the easy using system of the ladder. You have to frequently use it to store or remove things from the loft. So you should check
Is the ladder pulling down and up simple or not?
Can you do it quickly without putting too much pressure on your wrist or not?
When you know the answer, you can define which ladder will best fit you. Additionally, you can check out this article on how you can install an attic ladder by yourself.
Styles And Design
By installing a loft ladder, you can't mess up your home's interior beauty. So besides all those facilities, you should also keep in mind its design and style. But you won't have to burn too much fuel to find a stylish ladder as fashionable loft ladders are quite available.
You can choose the telescoping or scissor-style ladders that influence your home's beauty as well as serve your purpose.
Tips To Stay Safe While Using Loft Ladders
Taking some precautions and following some tips can maximize your safe climb to the loft ladder. Here're the most common precautionary steps and tips for you.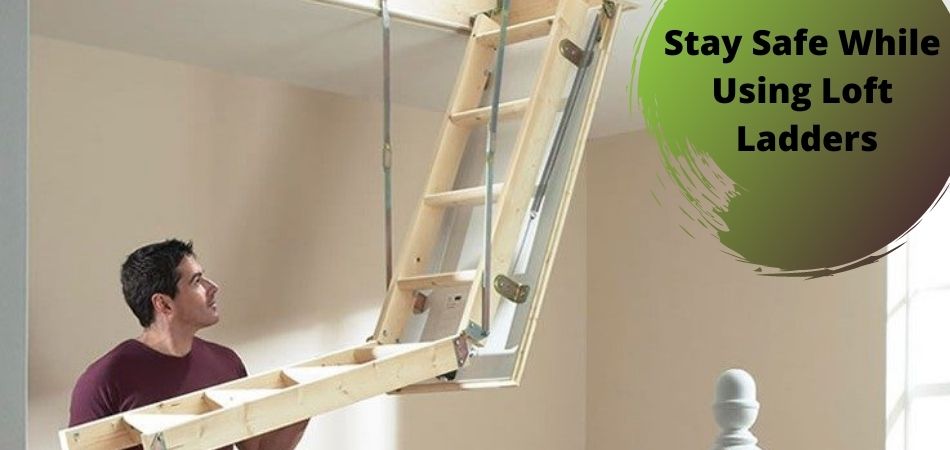 If you don't have DIY job skills, never try to install the ladder alone; seek help from a professional.
If you install the ladder, do it 100% accurately. Check and double-check all the joints and fittings before ending the installation process.
Always wear grip footwear to climb the ladder.
Don't cross maximum weight capacity when climbing the ladder.
Keep oil, grease, and other slippery items far from the ladder space.
Keep a second person at the bottom of the ladder to hold it firmly to prevent wobbling when you climb the ladder.
If the ladder has handrails, grab the rails with one hand and be careful when you change the feet 'threads.
If you have acrophobia, don't climb the ladder.
If you follow these precautions, I hope you can safely use a loft ladder.
Frequently Asked Questions
How Easy Is It To Install A Loft Ladder?
It's straightforward to install a loft ladder, though the installation procedure will vary from type to type and design to design. But in general, there are some basic processes to do it.
Most loft ladders come with all installation kits and instructions. You have to install the ladder by adjusting your attic following the instructions.
Can You Use A Loft Ladder As A Normal Ladder?
Yes, you can use a loft ladder as a regular ladder to serve your general purpose. Instead, using a loft ladder is much better than a regular ladder when you have limited space. As the loft ladder offers you foot threads folding and unfolding options, that is appreciated to save space. But you can't enjoy this benefit with a regular ladder.
Are Loft Ladders Safe?
Yes and no, both are correct answers to this question. If the loft ladder you use is made with quality materials that follow ANSI or OSHA safety standards, it will be safe. But, if the ladder isn't built with heavy-duty materials, doesn't follow safety standards, and doesn't install properly, that will be unsafe to use.
Though you use a good quality ladder, if you don't maintain a safe weight limit when climbing, that will also be a reason for wobbling and accidents. So never cross the manufacturer's weight capacity to avoid accidental falls.
Are Telescopic Loft Ladders Any Good?
Yes, the telescopic ladders are perfect for their space-saving mechanism and storage. Though they are made with lightweight materials, most of the ladder's maximum load-carrying capacity ranges from 220 lbs to 330 lbs. Each step will be locked when extending the ladder to ensure safe navigation.
Final Thoughts
Installing the best loft ladders for small spaces is always better than other alternatives to reach your attic. As the ladder is safer, easier, and simpler to use, there is no reason to ignore this innovative solution.
If you are in a dilemma about what to choose, we'll recommend the WERNER LADDER AA1510 AA1510B Ladder as it is made with sturdy materials and won't wobble when you climb it.
Since it comes with flexible height-adjustable, you can easily adjust its height with your loft. The compact and lightweight design need less strength to pull it down and up.