Are you a DIYer or a professional who climbs different heights for jobs, and does it pretty often? The most possible (and common) problem here is the ladder not reaching different heights with precise adjustments. Well, that can have an easy fix if you use a telescopic ladder.
Telescopic ladders give you by far the most flexibility in terms of height adjustment. However, the only question that remains is, do telescopic ladders have to be fully extended? Can they work well while extending less?
In short, Yes, you can use a telescopic ladder at any height, whether it's fully extended, or collapsed a few steps. It'll manage your weight just fine with its unique locking system. Well, you might have to do a few tweaks sometimes, and that's manageable.
We'll find that all out in this article, including how you do it. Let's get into it.
Do Telescopic Ladders Have To Be Fully Extended?
A telescopic ladder is versatile, lightweight, portable, and convenient compared to traditional ladders. It uses advanced technology to extend and lock in any desired heights according to the user's needs.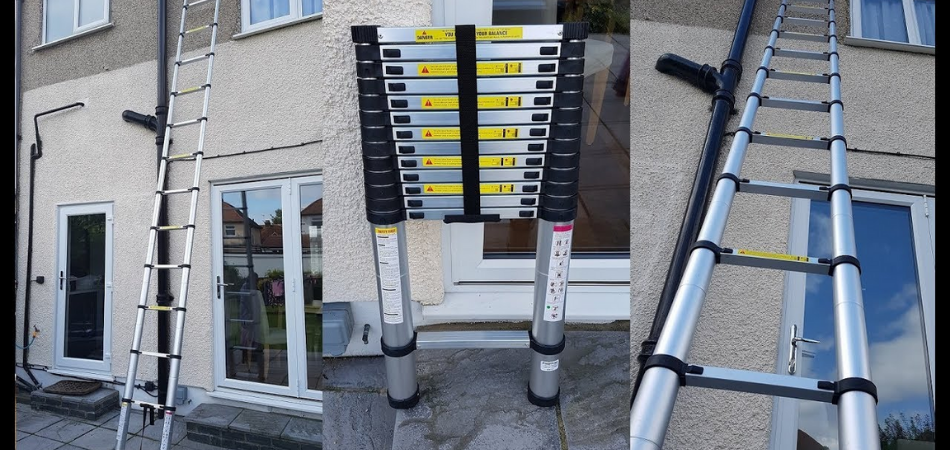 Now, if you've decided to switch to a telescopic ladder, or just got one, you'll have questions: Do telescopic ladders have to be fully extended? Well, the straightforward answer to this question is No. You don't need a telescopic ladder extended to its fullest to use it.
This ladder uses a collapsing mechanism that allows the users to open up a rung and lock it one after another. Therefore, you can extend the ladder to the exact height you want to reach.
Hence, extending the ladder to its full size or less is entirely up to you. If you need to reach a height equivalent to the ladder's full height, expand it all the way out. And when you're reaching a height less than the height of the ladder, suit yourself! It's not necessary to expand it fully.
One thing to keep in mind if you want an all-versatile telescopic ladder is this: You should get a ladder that weighs less but is sturdy enough for high pressure.
So, if you don't have a ladder yet, this is high time you consider getting a lightweight telescopic ladder that makes your jobs easier.
Is It Safe To Use My Telescopic Ladder At Less Than Full Height?
With a telescopic ladder, you can reach a height with precise adjustment. That's a great advantage, kudos for that. But is it safe to use a telescopic ladder while not extended to its maximum height? That's a question worth answering.
Although using a telescopic ladder is super easy and very intuitive, there are safety precautions to avoid accidental injury. As the collapsing mechanism allows you to set its rungs at any height, the rungs snaps locked once extended. Don't keep your hands/fingers under/near the collapsing or expanding ladder.
It's always better to test the ladder's stability when extended just before you step on it. Double-check to confirm that each rung is functional and locked firmly in its position. Be more cautious about safety measures when you're using a lightweight telescopic ladder, as it might need extra preparations.
How To Use A Telescopic Ladder?
Whether you use a telescopic ladder or a regular one, safety demands the correct usage. If you practice safe use of it, it'll give you the desired benefit.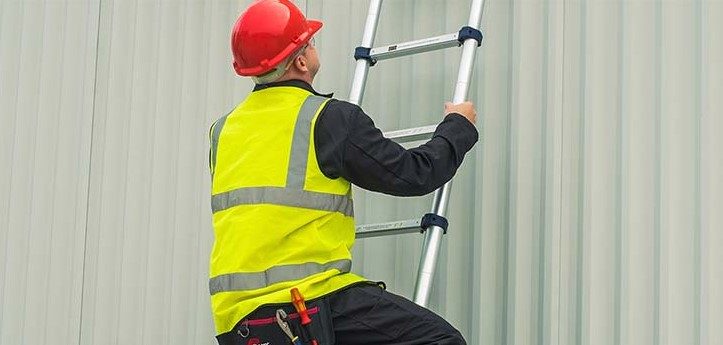 Let's get you through a step-by-step guide on how to use a telescopic ladder with utmost safety:
Step-1: Slide Your Ladder To The Height You Want To Reach
First, unlock or untie your telescopic ladder and extend the foot stabilizers, if your ladder has them. Slide the first rung out, and keep extending the ladder to your desired height. The rungs will snap securely after being fully extended.
Step-2: Double-Check To Confirm The Ladder Is Locked
It's important to double-check the rung of your ladder before you step on it to ensure safety. Modern telescopic ladders come with color-coded indicators to let you know (in green) once the rung locks in its position. Make sure every rung is locked before placing it on the ground.
Step-3: Set Your Ladder In The Right Place
Securely place your ladder against the support, it can be a wall or a roof. Set your ladder at a 75° angle to get adequate support from it.
Here, ensure the ladder is put against a solid wall or roof and has no loose or slippery bumpers. Also, make sure there's nothing under the ladder to make the ladder slip away once put weight on.
Step-4: Climb Your Ladder
Although it seems an obvious step, you need to be careful while climbing the ladder to avoid any injury. It's not all about stepping on it and going to the peak height. Inspect each step if they're appropriately locked, and hold on tight as you climb.
Step-5: Close The Ladder
Retract your ladder to its portable shape once you've finished your work. Unlock the locking mechanism in the bottom rung and snap the following runs into place. Use both hands to pull the ladder until it completely retracts into its bottom housing.
Final Verdict
Telescopic ladders are relatively new but an exciting (and better) alternative to the typical ladders. It's one of those tools that both DIY enthusiasts and full-scale professionals want to have readily available by their side.
Now that you know whether Do telescopic ladders have to be fully extended or not, things should be easier for you. The adjustable height of telescopic ladders eliminates the need for different-sized ladders for different jobs.