There are many different types of ladders, but which one is the absolute best? Well, that depends on what kind of ladder you're looking for and what you're trying to accomplish.
For example, if you try to climb a tree or a roof, you will need the tallest A-Frame ladders, whereas if you require to attach a wall clock in your guest room, a smaller step ladder will suffice.
Thus, in this post, we'll discuss the 22 different types of ladders and materials you can use to reach different heights and how you can use them to reach the heights of success.
22 Different Types Of Ladders And Their Materials
Deciding which ladder to get heavily relies on the purpose of use of the said ladder. You can discover a huge number of the ladder, from tiny to massive; say, if you care for longevity, then superior materials will be beneficial.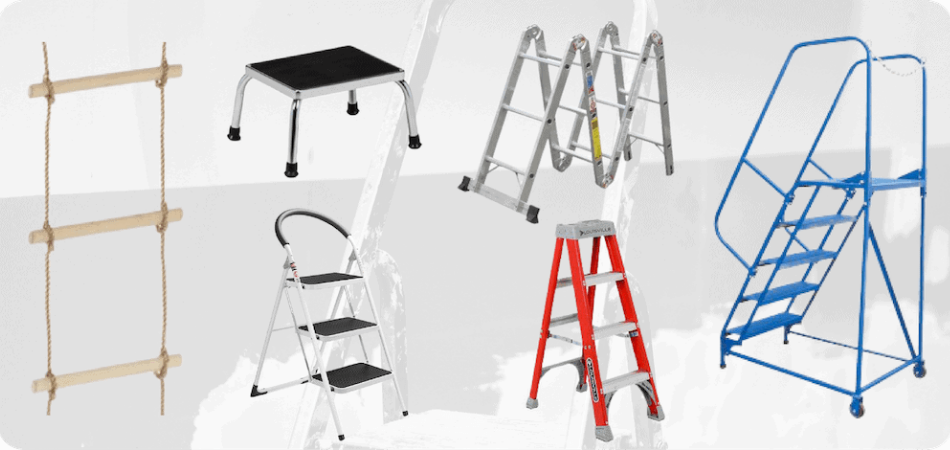 So in this section, to help you find the right fit, we will look at the important data of 22 diverse ladders, highlighting their pros and cons.
Let's get started.
1. Step Ladder
Made up of individual flat steps connected by steel rods with a hinged back, the step ladder makes it possible to adjust the overall ladder's height as needed. These ladders are typically used in situations where a person must climb from a height of 10 to 20 feet.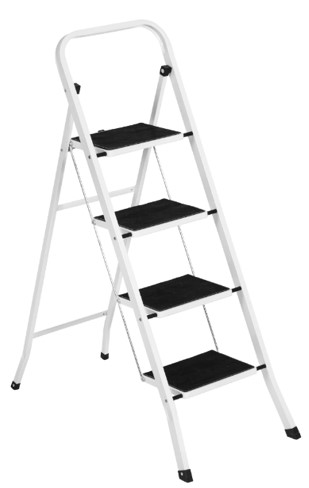 Besides, with wood, steel, and aluminum materials, one can construct this ladder depending on what the manufacturer is aiming for from durability and size.
In addition, the ideal usage of a Step Ladder should be limited to indoor use only, as this type of ladder is not meant for outdoor use.
2. Twin Step Ladder
 A twin-step ladder is used to reach high places such as rooftops, balconies, second-floor rooms, or other places that are not easy to reach. This ladder is available in different sizes and colors to meet the requirements of different applications.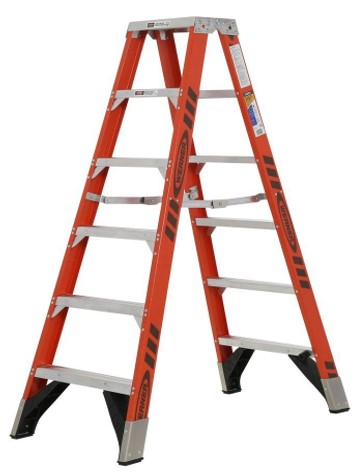 It is normally made from high-quality aluminum or fiberglass and is extremely sturdy. The ladder has two steps that are normally positioned side by side on a ladder and has a maximum weight capacity of 300 lb and a height of 4-16 ft.
However, the second step can be placed on top of the first step and vice versa.
3. Steps Stool
Steps Stool Ladder is a well-designed, functional, and sturdy ladder that can be used for many purposes. It has a height of 32 inches, and it also has a sit-on option for the users. This aluminum-based stool makes its final product ultra-level, lightweight and enduring.
Due to the legs being coated with anti-slip material, it prevents accidents while using the ladder.
Steps of these high-quality products are made of plastic, and they are very durable. This ladder has been rigorously tested in the worst conditions conceivable, with a weight limit of 300 pounds.
This can be used in many ways: as a stepladder, extension ladder, or even workbench. Plus, indoors or outdoors and in any type of environment: industrial or commercial locations, home improvement projects, etc.
4. Ship Ladder
All in all, ship ladders are a blend of various combinations of both stairs and ladders. This unique hybrid ladder provides a vertical circulation with excellent cozy mechanical and service spaces. The stairs provide a maximum angle of 45 degrees higher than other typical ladders (30-32 degrees).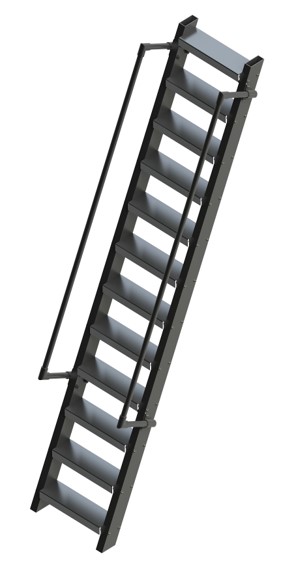 On top of that, it presents a brilliant alternative to the standard ladders preferred more due to their stand-alone stair-like features. This type of ladder can be made from many different materials, including wood, stainless steel, and aluminum.
Plus, holding a telescopic design grant it options to collapse into a small space, making it easy to store and extend to reach heights of up to 9-11 feet without breaking or requiring any special tools.
5. Straight Ladder
Straight ladders are "The" ladders we use to do any job which requires ladders. This ladder is generally used for all commercial uses and is a regular feature in the household.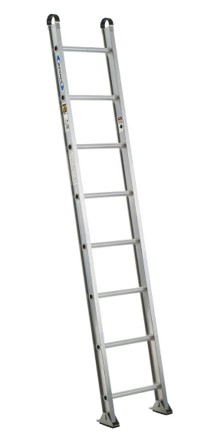 Its usage consists of hanging, painting, and doing electrical work and is not limited to other tasks that require reaching high places.
Straight ladders are usually made of wood, steel, or aluminum, although some straight ladders are made of fiberglass.  The parts of a standard straight ladder include the base, steps, and handrail.
6. Platform Ladder
Platform ladders are a type of ladder that is designed to have a platform at the top so people can stand on it while they work. Aluminum is one of the most common materials used in the construction of platform ladders because it is lightweight and sturdy at the same time.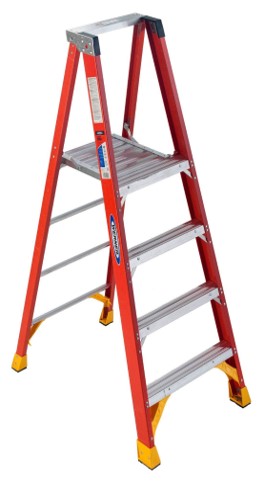 The components built around the material are lightweight enough to carry around easily; they don't bend easily under pressure either.
Overall, to sum it up, typically body features of a platform ladder include its top platform, two side rails, rungs, footrests, and handles.
This type of ladder is massively used on construction sites or painting buildings or houses.
7. Extension Ladder
A steel or aluminum-based extension tool is often used to reach high places up to 12-40 meters.  The legs offer superior flexibility as extending or shortening is not complicated at all.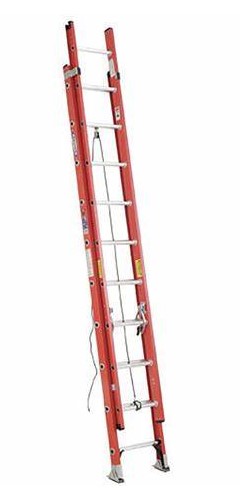 In addition, it has an anti-slip foot, which helps keep the ladder stable while working.  It also has a safety bar that prevents users from falling off the ladder if they lose their balance.
The body of an extension ladder contains three parts: the base, the side rails, and the top rail.  It also has a ladder hook to attach to another object (usually the building's eaves or a wall).
The base is just strong enough to support up to three times its rated load capacity without tipping backward.
8. Folding Ladder
The folding ladder is a common household item that is used for many purposes.
Typically used to reach a high shelf or clean the top of a tall bookcase, the ladder's functionality can also far exceed expectations, such as reaching the top of a 2-floor building to paint or clean the establishment.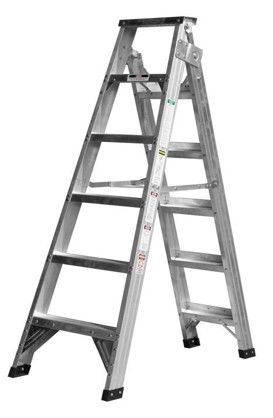 They are normally constructed from aluminum, metal, or timber. They are lighter and easier to carry than their non-folding counterparts, which are usually made of aluminum or metal.
They can be large in size, clocking in between 7-8 feet; however, they can't take a load of more than 250 pounds.
9. Fiberglass Material Ladder
The moderately newest addition to the materials list in the gigantic ladder manufacturing enterprise is none other than "Fiberglass."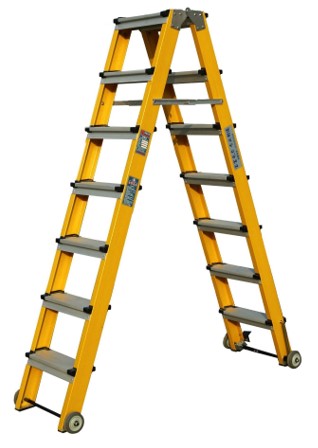 This type of ladder material is considered the safest choice for consumers. At times even showcasing it's more robust than aluminum ladders themselves.
Fiberglass has a unique collection of features that is absent from its counterpart, like aluminum, timber, plastic, and steel.
Moreover, due to the heat and electricity resistance of the said material, it's highly unlikely that the ladder will bend or crack in humid temperatures such as aluminum.
10. Multi-Purpose Ladder
As the name states, the multipurpose ladder can be used to get the work out of other different ladders, mainly a step ladder, platform ladder, stairwell ladder, trestle ladder, extension ladder, etc.
This sturdy ladder offers vast versatility and expenditure savings for the masses.
Mainly aluminum-based, these ladders come at a huge height of 12.5 feet and have rungs up to 8-14.
The multipurpose ladder is ideal for anyone who is on a short budget.
11. Telescoping Ladders
A telescoping ladder is one that can expand and retract. The stated ladder comes in a variety of shapes and sizes, and it has a stable structure thanks to the use of several materials such as aluminum or steel in its construction.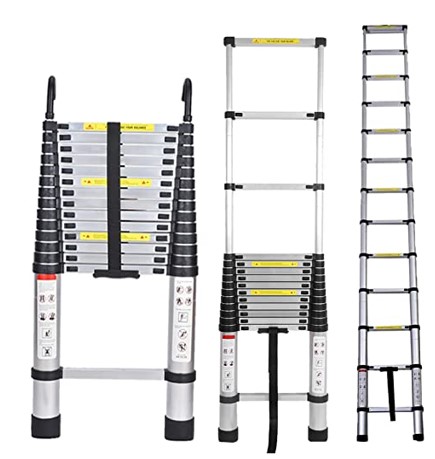 Aluminum ladders are lighter in weight and easier to store than steel ladders. Steel ladders are stronger than aluminum ladders and are more durable overall.
However, they are also weightier and harder to store than aluminum ladders because they take up more room when folded up compared with their aluminum counterparts.
12. Trestle ladders
Trestle ladders, also called double front ladders/ A-frame ladders, are used for two people standing on both sides when working at heights of up to 20ft.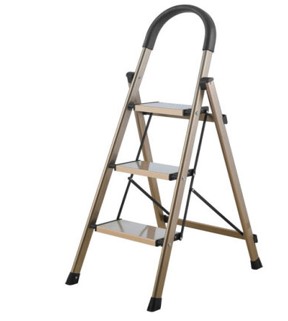 They are made up of a platform and upright self supports, including rails. The platform and supports are secured to each other by hinges or brackets.
Trestle ladders are typically made from wood but can also be made from metal, aluminum, plastic, or synthetic materials.
13. Timber/Wooden Material Ladders
Wooden material ladders have been used for hundreds of years. They are more durable and long-lasting than fiberglass or metal ladders, but they are also heavier and less portable.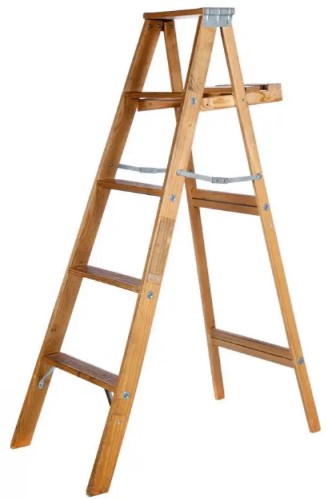 They come with a variety of rungs and treads. Some of these ladders have both sides covered with rails to provide a firm grip to the user. Ladders made of wood can be used both indoors and outdoors.
They are most often used in residential construction, but they are also sometimes used in industrial settings.
14. Aluminum Ladder
Aluminum material ladders are used largely on construction sites. These ladders are generally lightweight, endurable, and easily carried around.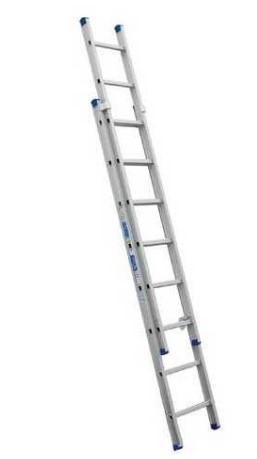 The ladders are available in various lengths and heights, depending on the user's needs.
These ladders can be the safest option for people compared to other materials and are elementary to operate, and can be found in many configurations such as step ladders, platform ladders, etc.
15. Steel Ladders
If someone requires a more durable and safe ladder, then steel-based ladders are the best option out there.
Some steel-based ladders are designed to be portable, while others are designed to be permanently installed at a specific location.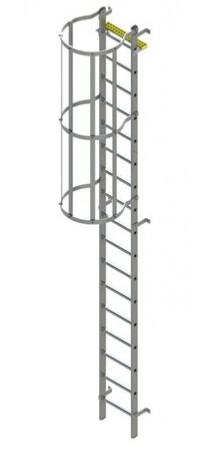 These ladders come in many different types and sizes, including step ladders, extension ladders, and attic ladders.
Although they have a firm, heavy and solid base, they are not rust-free like their aluminum, plastic, or fiberglass peers.
Steel ladders are a prominent figure in old-school heavy-duty professional work. For example, a large storage facility.
16. Plastic/GRP Ladders
The plastic ladder is the most low-key materialistic type of ladder in the market (except rope).
This ladder type is frequently used to increase duplicate ascending speed on main ladders that can jump up to one tile.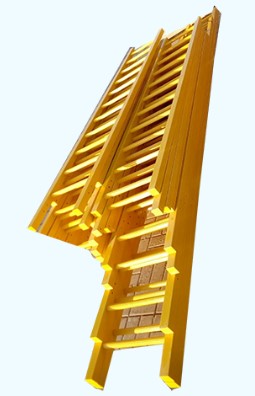 The ladder presents a tough, sturdy base for the duplicates to stand on top of while people are toiling, such as painting walls, building, digging, etc.
A plastic ladder is ideal for indoor applications as it possesses the lowest level of hazard.
17. Articulated Ladder
Articulated is a self-supportive portable ladder that is made up of two or more parts that can be separated, allowing you to adjust the length of your ladder as needed.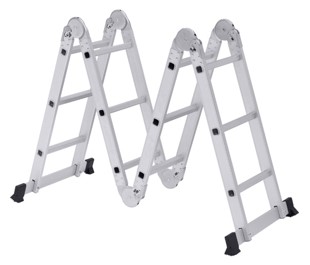 They're ideal for working on roofs or in tight spaces where a standard ladder wouldn't fit, and they come in a variety of sizes and configurations.
You can find articulated ladders in fiberglass, aluminum, wood, and even steel varieties from straight or extension ladders, a trestle ladder, a stepladder, etc.
18. Attic Ladder
Attic ladders are a simple, safe, and easy way to access your attic, from pull-down options to folding.
They are designed to fit into the opening of most standard attics, making them a great option for anyone who wants to use their attic space.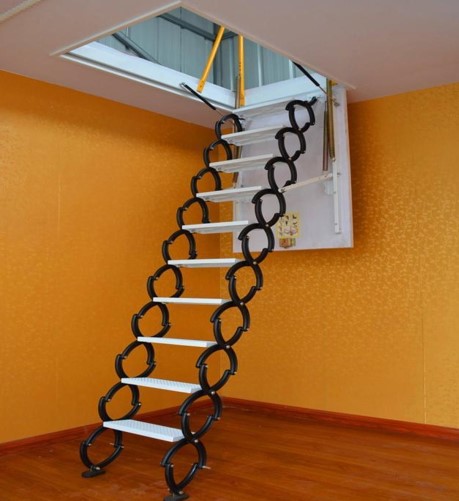 Attic ladders are constructed from lightweight materials like aluminum or wood and can be installed quickly and easily by one person.
They fold up face down against the ceiling when not in use so that they won't take up much space at all.
19. Flexible Ladder
A brand-new type of ladder in the market, these admiringly flexible ladders are safer for the masses and more universal to use daily.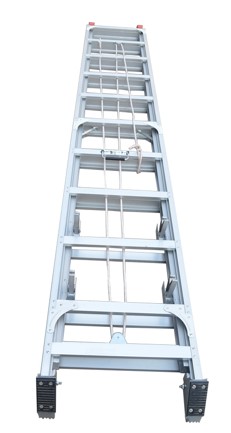 One might even say the sheer flexibility of this tool allows it to be used for applications that may not be possible with other types of ladders. For example, indoor attic to high-end portrait attaching.
For example, the ladder can be used to reach items on shelves and cabinets that are out of reach by standing upright or lying flat against the surface. It can also be utilized as a step stool when needed.
Even though the top ladders are mainly aluminum, you can also find other suitable options such as fiberglass, plastic, or even synthetic( rubber + steel ) materials.
20. Rope Ladder
A rope ladder (the least known material in the popular ladder genre) is a climbing apparatus that consists of a fixed length of rope. It normally has been braided or woven into a shape that can be used to climb up or down a steep slope or vertical surface.

These highly portable ladders, which are mostly made of wood and steel rungs, can have many pitches or rungs, or only one, depending on the design concept.
These kinds of ladders are highly preferred in outdoor activities such as rock climbing, mountaineering, and caving.
21. Cleat Ladder
Cleat ladders are made of a series of loops that are bound using metal or plastic clips called "cleats."
For the purpose of moving up or down with the rope without holding it with their hands, the cheats are attached to harness the ultimate synchronized grasping balance.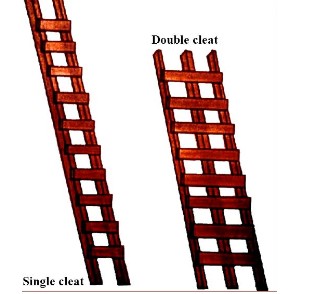 Some climbers choose to use a mechanical ascender instead of a cleat ladder ( single or double cleat ladders ), but the latter is more adaptable and straightforward to use.
Cleat ladders can have a height close to 24-30 feet, with them being mostly placed in the center rail.
22. Fixed Ladder
A fixed ladder is a kind of ladder that is permanently installed in one place. They are often seen on construction sites, providing access to high levels.

Fixed ladders are commonly assembled from metal or fiberglass and are designed with steps that are spaced apart so that the user can climb them with ease.
The most common types of fixed ladders are straight ladders, extension ladders, and step ladders.
Conclusion
In the end, ladders are indeed great helpers for both DIY enthusiasts and professional workers who use ladders every day. It's all about finding the right ladder that meets your needs. You'll need a different ladder for different jobs and different heights.
However, as with most things in life, you have to be careful when using a ladder to avoid injury and ensure that the ladder you choose is the right one for your job.