Having a ladder let you access heights that you can't reach just by stretching or standing over something nearby. As such, if you buy a good A-from stepladder, you can have a mini workstation or platform above the ground quite easily.
Your tool inventory should contain one of the best tallest A-frame ladders with other essentials like handheld saw, hammer, drill, etc. Even if you're not a professional handyman, using a good stepladder can ease works like painting walls and ceilings, hanging lights or fans, fixing damaged interior and exterior, and reaching the top of poles or trees.
However, several different types of A-frame ladders are available in the market. Some are customizable to other forms, and others are extendable according to user demands. Each one has its own specialties. So, today we're talking about the 8 tallest A-frame ladders and reviewing their good and bad sides.
Why Should You Choose A-Frame Ladders Over Other Ladder Types?
A-frame is an older ladder variant used by both homeowners and professionals. But still, it can do far better than many latest types. And the good thing about a-frames is you don't need any skills or experience to work on a stepladder or A-frame ladder.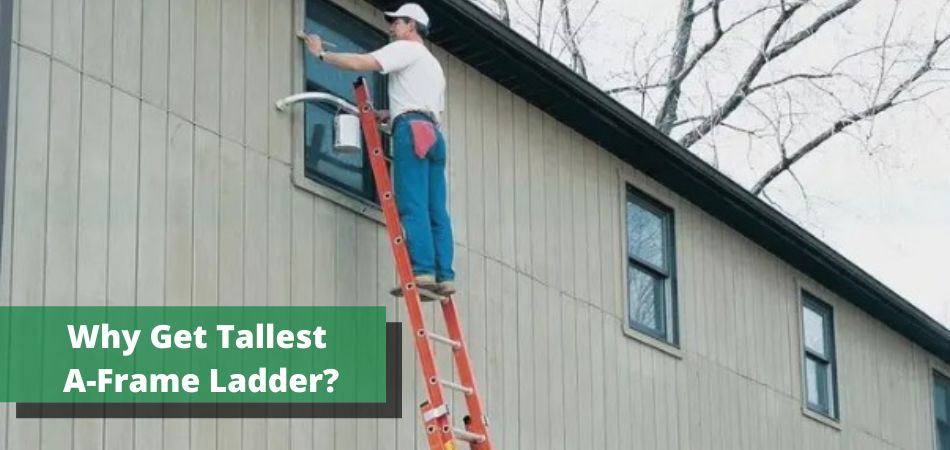 If you ask us, we can present many facts proving A-frame ladders are far better than many others. Here are a few of them that you should know.
A-Frame Ladders Offer Better Stabilization Than Straight ladders
The four legs of a stepladder can be more effective than a straight ladder. These legs help create a base that allows users to stand with full safety. You don't need to add any stabilizer or V-rung for stability.
A-Frame Ladders Platform Provides Wider Workspace
Because of being stable and firm, you can stand on an A-frame ladder for quite some time and move your body in flexibility. You can also convert your ladder into a mini workstation with some add-ons.
You Can Use A-Frame Ladder More Easily Than Many Other Ladder Types
Usually, stepladders don't come with too many customization options. They're easy to use in any situation.
The Locking Mechanism in A-Frame Ladders are More Secure
An A-frame ladder can have one or several locks to hold the position while being unfolded. These locks are truly performing ones, and you can rely on them.
Table of Contents:
Telling you the names of the best tallest ladders isn't enough. You should know the benefits of buying those products and their drawbacks. Also, you must find out how to know which one is the right choice for you. For this, here are all the related topics we're about to discuss.
Comparison Chart:
Not every 30-foot A-frame ladder is a good choice. The quality of the rungs, customization scopes, core materials, and many other things matter when you try to find the best one. As we've already tested some of the best A-frame step ladders and extension ladders, we're able to enlist the top 8 models today with their reviews. Before jumping into the reviews, let's do some side-by-side
[table id=9 /]
Here Are The 8 Best Tallest A-Frame Ladders In 2022
Now, let's break the ice and go straight to the reviews where you can find the best option for you. According to our research, Little Giants M26 is the right one to spend on overall. However, choices can vary. So, we're reviewing 7 more options below.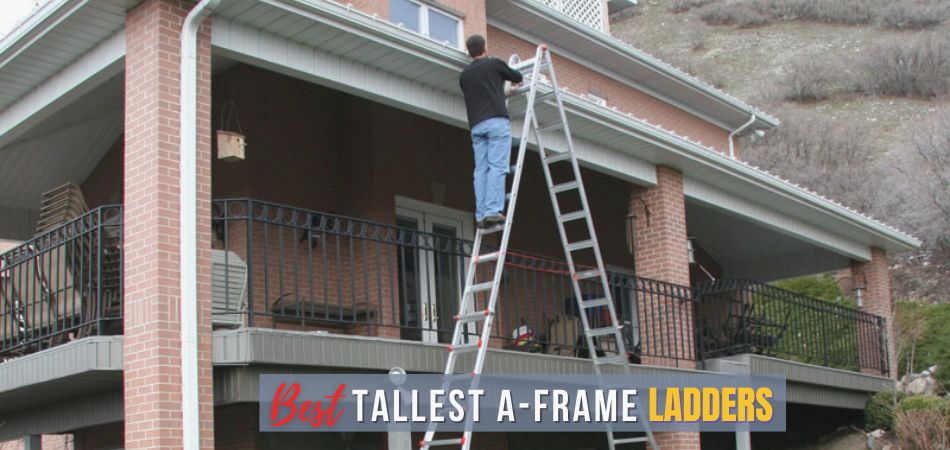 1. Little Giant Ladders M26: Best A-Frame Ladder Overall
Very few ladders can work flawlessly both indoor and outdoor. M26 is one of them. Till now, it is proven to be the best Tallest A-frame ladder in the market. The best thing about this ladder is its adaptability to any situation or any sort of work. So, let's see how this M26 can help someone in their work above the ground.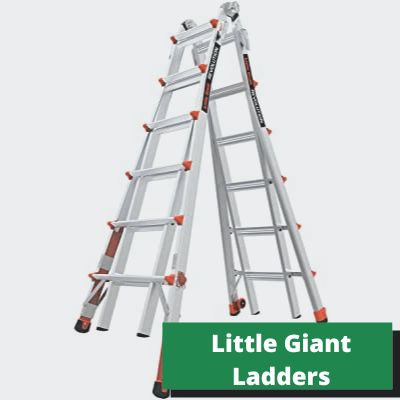 Multipurpose Use
The best thing we've found about this model is the versatility in the construction. Surprisingly, you can use this ladder as a part of the scaffolding system.
All you need to do is attach a toolbox with straps and an extension stand over a rung. Together, they would make a combo that would be handy and cheaper than any mid-class scaffolding.
Aerospace-Grade Material
With bare eyes, the aluminum frame might seem like any other model on the market. But the aerospace-grade aluminum actually withstands any worse situation or immense pressure. Ultimately, this Litewave aluminum technology is worth money in many ways.
Widen Legs
The legs of one side of this ladder are spread a little. This brings both steadiness and extra weight capacity. Most of the time narrow legs can't hold the pressure well and fall immediately when someone reaches the top rung. But nothing would happen in the case of M26 because of this friendly construction.
Ratchet Legs
The basic stuff of stationing a ladder is to put it on an even surface. On uneven surfaces, you can never expect a ladder to stand well. That's why the manufacturer has added ratchet leveler legs at the bottom of the M26 ladder. You can pull any or both of the ratchet legs to balance the ladder and make any surface look even.
Specs of Little Giant Ladders M26 Multipurpose Ladder
| | |
| --- | --- |
| Weight | 53 lbs |
| Core Material | LiteWave Aluminum |
| Max. Height | 7.8 meter |
| Ladder Type | Extendable Stepladder with Ratchet legs |
| Weight Capacity | 600 lbs (300 lbs on each side) |
Why Do We Recommend It?
In short, this can become your mini workstation above the ground. There are very few noticeable drawbacks that we've found about this model. So, don't worry about the price. It's worth spending if you're a professional and you frequently need ladders for work.
2. Gimify A-Frame Extension Ladder: Best A-Frame Ladder for Indoor Works
Telescopic ladders can be used in many ways. Recent models are also featuring to let buyers use these ladders as A-frame types. Now, we're going to review such a model, Gimify A-frame extension ladder that suits the interior ladder works perfectly.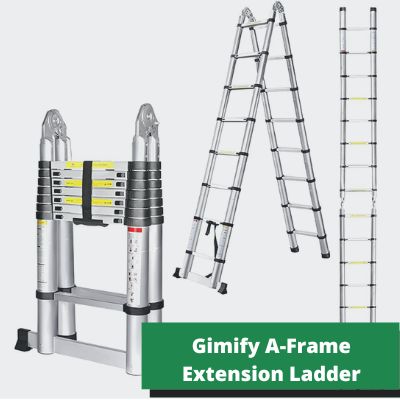 Added Longevity
The aluminum alloy construction is quite stronger. It doesn't get any damage from rust or corrosion. Furthermore, The welding to attach the rungs is pleasing too. The rungs would never break down even if you jump on them with full force. With that, the rubber feet or paddings are expected to last for years.
Weighing Lighter
It won't be surprising if the product's weight is more than 40 lbs depending on the structure. But it only weighs nearly 38 lbs. So, it's a bit lighter than other ladders for heavy work. If you're not professional and don't know how to handle a ladder, Gifiny can be a good pick.
Better Customization
Apart from being an A-frame ladder, the model can be a good extension straight ladder or scaffolding support. You can also adjust two sides in different heights for places like stairs. Because of this, the model can become an all-in-one solution for painting or cleaning the home.
Sturdy Hinge Lock
Most of the A-frame ladders that can turn into straight extension ladders wobble much when they get extra tension. To solve such an issue, Gimify has a strong hinge lock that acts automatically when you fix a position.
Specs of Gimify A-Frame Extension Ladder
| | |
| --- | --- |
| Weight | 38 lbs |
| Core Material | Aluminum |
| Max. Height | 5.03 meter |
| Ladder Type | Extendable A-Frame Ladder |
| Weight Capacity | 330 lbs |
Why Do We Recommend It?
This choice is a pretty simple ladder. It doesn't have too many unique and exciting features. But it can work well when you occasionally need to do some chores at a height that is hard to reach. So far, the product is the right choice for non-professional guys.
3. Guanchen A-Frame 5M Straight Ladder: Best Budget A-Frame Ladder
Buying a good A-frame ladder takes hundreds of bucks. That's why most people hesitate to buy one. For them, we're now showing you the Guanchen A-frame ladder, which is one of the Best ladders under $200. Despite being budget-friendly, the model works fine and can beat many other models when comparing their performance side-by-side.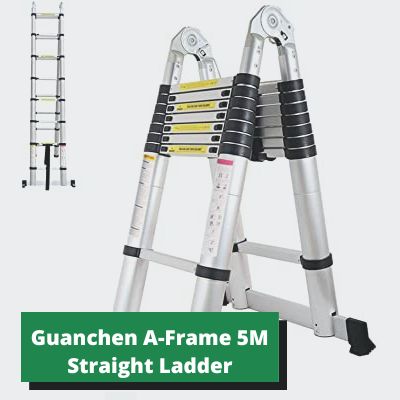 Easy to Carry Around
If you are a contract worker, you'd expect your tools to be highly portable. Guanchen A-frame ladder lets you carry itself at the back of your vehicle without requiring too much space. It also weighs less than 23 lbs. Ultimately, you can also carry it with your bare hands only.
Minimum Steps
This model isn't very large. So, there's no need to add extra rungs that might confuse users while using the ladder. On both sides, the Guanchen ladder has only 16 steps altogether. It also makes climbing up pretty fast.
Firmly Collapsible
Though it's said that this one's an A-frame ladder, it's basically a straight extendable ladder. The release rods and the hinges at the middle can help the ladder stay folded and become a perfect A-frame until you straighten it.
Extremely Lightweight
Surprisingly, this budget ladder is also very lightweight. Guanchen weighs only half of any average telescopic ladder. You can carry this from one place to another only with your bare hands.
Specs of Guanchen A-Frame Straight ladder
| | |
| --- | --- |
| Weight | 20.2 lbs |
| Core Material | Aluminum |
| Max. Height | 5.03 meter |
| Ladder Type | A-Frame Straight Ladder |
| Weight Capacity | 330 lbs |
Why Do We Recommend It?
People who need to do cleaning or painting chores should buy this ladder budget is their main issue. And you won't get something 100% accurate in this price range. So, we recommend this, keeping the flaws aside, especially for DIYers and workers with small jobs on hand.
4. Louisville Ladder FM1416HD Twin Front Stepladder: Best A-Frame Ladder for Heavy Users
Are you worried that no ladder can take your weight without breaking down? Then, Louisville FM1416HD would be a perfect choice for you. It can take more than the average weight capacity on each side of the construction at a time. Surely, this model has a very rigid build.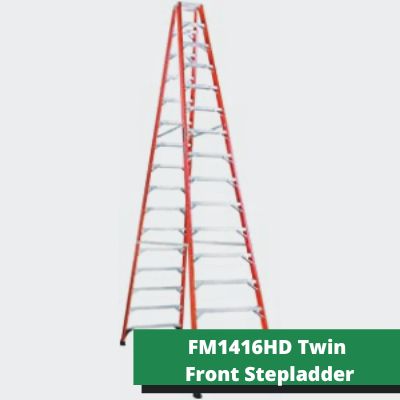 Fabolous Support
Each rung has two support bars below to let them handle the extra weight. This also prevents bending for quite some years. Most importantly, the steps are also thick enough to hold the shape even if you carry a big heavy circular saw while standing on the ladder.
Impact Absorption
A unique feature of this ladder is the SHOX system. This feature allows absorbing unwanted impact on the frame while someone's working or moving. This facility is mainly for keeping the whole stuff steady even if you or your tool makes huge vibrations during a job.
Consistent Stability
most oft of the stability depends on the legs and their paddings on a ladder. Here, the legs of FM1416HD have Raptor boots that work just like sports shoes that can grab any ground firmly. The boots have patterned rubber bottoms to keep the ladder stand in one place until you move it.
Balanced Gapping
The gap between the steps is given to ensure the structure can hold the actual shape. And the angle created between the two sides is also good for indoor and outdoor working environments. Thus, the overall construction seems user-friendly enough.
Specs for Louisville FM1416HD Twin Front Stepladder
| | |
| --- | --- |
| Weight | 81 lbs |
| Core Material | Fiberglass |
| Max. Height | 4.9 meter |
| Ladder Type | Stepladder |
| Weight Capacity | 750 lbs (375 lbs on each side) |
Why Do We Recommend It?
Louisville FM1416HD ladder is so strong that it can help two large people stand and work together. It's a very reliable ladder that you can use even if you're an old guy fearing a ladder might slip because of moving too much. This model is quite reliable for painting and repairing works.
5. Little Giant Ladders M21: Best A-Frame Ladder for Interior Renovation
We all know how famous Little Giant Ladders are. One of the famous models of the brand is the M21. It is a versatile ladder than goes well with interior renovation works. Although the price might be off limits for a few, this product is truly amazing.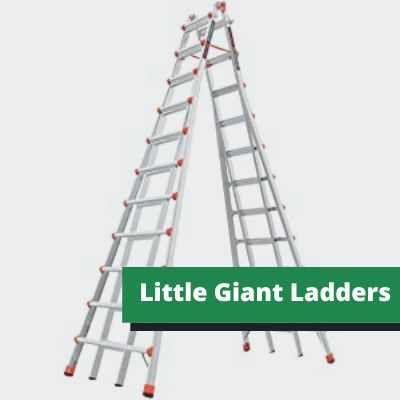 Easy Adjustability
With heavy-duty bearings on top, the M21 ladder can create positions that workers would find handy. These bearings can also keep both sides of the ladder locked even if the worker moves a lot. That's why M21 is safe and secure.
Unique Height Extension
The height extension feature is very common nowadays. But this one is not the same. The extensions on both sides are railed inside the main ladder body. Whenever you need to extend the height over 11 feet, you just have to rail down the main body and lock it on the preferable height. And most importantly, you can do it with only one part of the ladder if needed.
Performance on Uneven Surfaces
This stepladder also works on uneven platforms like stairs. All you need to do is extend a part that should be on the lower stair step and that's all. With this feature, anyone can go near "Hard reach" places for any purpose in mind.
Pressure Reduction
The packaging or instruction manual with the product says it can take a load of around 300 lbs at a time. But actually, it's 300 lbs on each side at a time. For this, you can easily work with your partner while both of you are standing on the ladder. And don't worry about the balance. The legs would regulate the pressure you're giving to the ladder and keep the work area safe even if you guys move a lot.
Specs of Little Giant M21 Ladders
| | |
| --- | --- |
| Weight | 102 lbs |
| Core Material | Aluminum |
| Max. Height | 6.4 meter |
| Ladder Type | Extendable Stepladder |
| Weight Capacity | 600 lbs (300 lbs on each side) |
Why Do We Recommend It?
It's not a lightweight ladder. Yet, we find it good to use for indoor works. Even if you are not a professional, you can keep Skyscraper M21 in your house for small issues like cleaning ceilings or installing a fan or chandelier.
6. Bowoshen 16.5FT Aluminum Telescoping Extension Ladder: Best Portable A-Frame Ladder
Among several A-frame ladder types, telescopic ladders are currently quite popular. So, here's another Telescopic extension ladder from Bowoshen. You can use it for indoor and outdoor activities.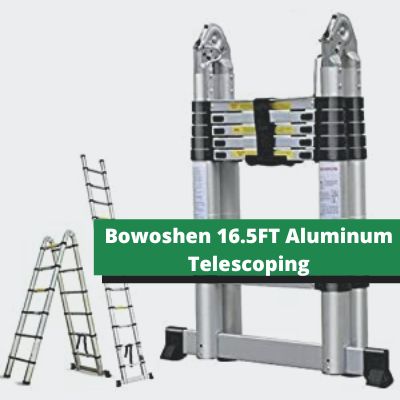 Reliable Locking
As the ladder can be extended from A-frame, the integrated lock is truly amazing. It doesn't allow the ladder to unfold despite having immense tension over it. Furthermore, the rung locks are able to keep the steps steady. You can also adjust the rung gaps with those pin locks before use.
Perfect Balance
At the bottom, you can install an extra stability bar to keep the ladder steady. This bar also supports the whole construction while you're placing the ladder in an uneven or slippery place.
The padder rubber legs on the two sides of the bar can grab any ground firmly to hold the ladder's standing angle. This feature is handy while reaching the top of a tall wall or tree.
Safety Ensured
The strong aluminum design ensures users' safety. The thick coating over the aluminum frame makes the product durable. It also lets a user hold the ladder without hands being slipped from the bars. Besides, the industry-grade strap can hold the rungs while you are traveling with the ladder. That's why you can assume this model is a user-friendly option.
Specs of Bowoshen Telescopic Extension Ladder
| | |
| --- | --- |
| Weight | 37.5 lbs |
| Core Material | Aluminum |
| Max. Height | 5.03 meter |
| Ladder Type | Telescopic Extension ladder |
| Weight Capacity | 330 lbs |
Why Do We Recommend It?
This telescopic ladder is a good choice until your main motive is to use it at full extended height. The joints in the partition are good, yet not sturdy enough. Apart from that, this one's very durable. You can use it for both indoor and outdoor purposes.
7. SHZOND 16.5 FT Aluminum Telescopic Extension Ladder: Best A-Frame Ladder for High Ceiling
Anyone willing to buy a telescopic ladder with wider rungs would find this model quite useful. After all, this one has decent weight capacity with enough steps on each side. So, let's see what our expert team says about the SHZOND Telescopic Ladder.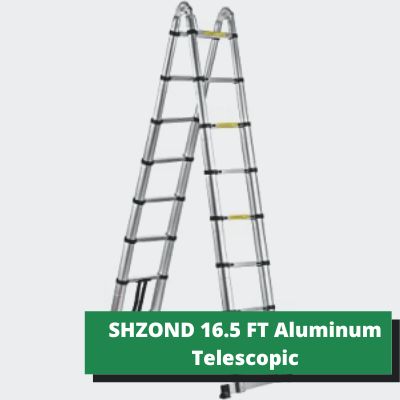 Necessary Spacing
Many might think the gaps between the rungs or steps are more than needed. To be honest, the extra space reduces the effort of taking several steps on the ladder. Moreover, 8 steps on a side ease the pain of locking several pin closures to adjust the height. That's why the 11.8 inches gap between the rungs is acceptable in many ways.
Wider Steps
Small or thin rungs aren't sturdy and they also hurt your feet. Here, the rungs are wide enough to let you stand without holding any sidebars while working at a risky height. Besides, you won't slip from those steps. The finishing over the aluminum frame can create some friction to keep the user standing well.
Assured Stability
Though the construction has no stability bars between both sides, it still remains stable no matter how much weight you put on the ladder. The sidebars are also wide for bringing steadiness while you're working. And the special part is the added weight also helps to keep the extension ladder stable.
Ease of Use
Like other Telescopic ladders, this one also has multiple locking features. Each rung has two pin locks that you can use with only the help of your thumbs. Along with that, the closure strap also helps to hold the rungs together while you're traveling with the ladder.
Specs for SHZOND Telescopic Extension Ladder
| | |
| --- | --- |
| Weight | 37.7 lbs |
| Core Material | Aluminum |
| Max. Height | 5.03 meter |
| Ladder Type | Telescopic Extension ladder |
| Weight Capacity | 330 lbs |
Why Do We Recommend It?
As the model seems quite large and capable of taking some pressure, you can use it for painting home interiors and ceilings. Also, the sturdy construction allows you to use it for quite a few years without any issues.
8. ZhanGe Aluminum Telescoping Telescopic Ladder: Best A-Frame Ladder for Occasional Uses
So far, this has been a proven compact and portable ladder that professionals can use. However, because of being compact, the Telescoping ladder has some shortcomings. But the construction and height adjustability still allows users to work pretty comfortably.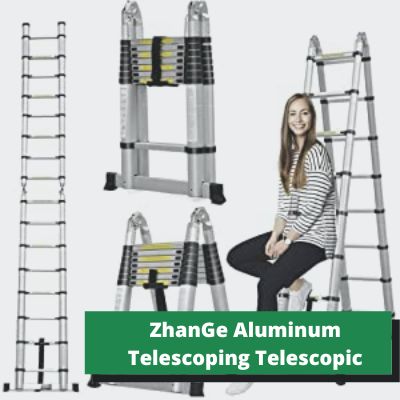 Advanced Locking System
At the top of the ladder, there's a hinge that helps to lock the hinges. The Class-A locking is undoubtedly handy here. Moreover, each step of the product has a lock with two pins. These small locks hold the steps on the sidebars when you're climbing. That's why you can work on it without any trouble along with your tools.
Great Portability
Of course, this Telescoping ladder is easily portable. When you fully fold the ladder, the whole stuff becomes only 86 cm long. Because of this, you can carry the ladder inside your car's dickey or large tool bag. The feature is very useful for contractor workers who need to go places every now and then to do their jobs.
Firm Gripping
Many might think this small aluminum construction can slip or lose stability. Actually, the extension ladder has the double gripping feature. As you can see, one side of the construction has stripped rubber caps that hold the ground pretty well. Another side has rubber legs so that the whole thing can take the weight of the worker without any issues.
Specs for ZhanGe Aluminum Telescoping Telescopic Ladder
| | |
| --- | --- |
| Weight | 40.1 lbs |
| Core Material | Aluminum |
| Max. Height | 5 meter |
| Ladder Type | Telescopic Extension ladder |
| Weight Capacity | 330 lbs |
Why Do We Recommend It?
It's sure that you can use this model for both indoor and outdoor work. But large or bulky people would find this one pretty hard to use. As the steps aren't wide enough, it's hard to climb up or down quickly using this ladder. But overall, the Telescoping Telescopic ladder is a good bargain.
Things to Consider When Buying The Best Tallest A-Frame Ladder
In a nutshell, the best tallest A-frame ladders aren't about the height. Several things matter, they are never neglectable. From material to lower padding, everything matters here. It's time to show you the facts needed to be considered when you're off to buy a new and suitable ladder for you.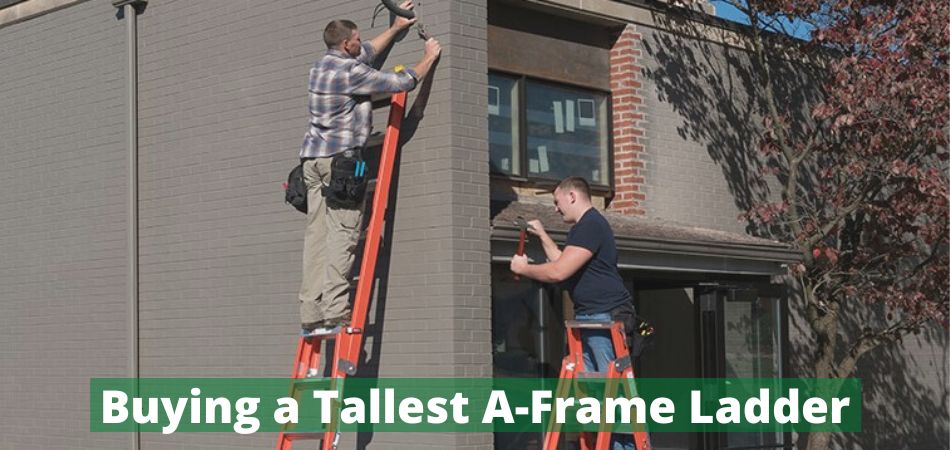 Material
There are mainly three materials used in making the core frame of ladders; Steel, aluminum, and fiberglass. Among them, aluminum is vastly used in making models of the best tallest A-frame ladders.
But fiberglass can be a good choice too if you have a handsome amount to spend on buying a new stepladder or telescopic ladder.
Height
Normally, A-frame step ladders are 10-20 feet tall. But the most common height range is 16-17 feet or 5 meters on average. The best ladder height depends on which type of work you're going to do. Also, if you are sure about the matter, you can buy an adjustable extension ladder for height customization.
Weight Capacity
Even a lightweight user should buy a ladder that has at least 250 lbs of weight capacity. If you work alone and don't need to work with heavy tools on the ladder, then the mentioned number is okay. But we prefer the weight capacity to be around 300 lbs for optimal use.
Legs
Legs with rubber pads or shoes can regulate the pressure along with eliminating unusual movements. Thick patterned rubbers make a ladder stick to a fixed position on the ground. Make sure the product you buy at least has durable rubber caps for additional safety.
Price
We think you need to spend around 200-500$ for having a tall A-frame ladder. A telescoping telescopic ladder might be available for 200$. Still, there are some awesome options out in the market, especially for professionals, that cost more than 500 bucks sometimes.
Frequently Asked Questions (FAQ)
After all this important stuff, there might be some questions still wandering in your mind. Let's answer some of the common questions here.
How High Should A-Frame Ladders Be?
Tall A-frame ladders are usually 14-18 feet high. But the most common height is 16' nowadays.
Extendable ladders can be 20 feet or higher. According to experts, 16-18 feet ladders can be as good as a scaffolding structure. And surprisingly, there are even 4' or 8' ladders too for small interior tasks.
Are A-Frame Ladders Self-Supporting Or Do I Need To Place Them Against Walls?
A-frame is the only type that is self-supporting. The ladder is divided into two parts and the top of both parts are attached whereas the bottoms work as legs; just like a bar stool or chair.
Besides, you'd find hinges and side rails to hold the unfolded position of a stepladder. This type of ladder doesn't need any external support to work well.
Can You Use A-frame ladders As Straight Ladders?
It's a bad idea trying to use A-frame ladders as straight ladders forcefully. Many even think of using stepladders half opened, which is also risky in every way.
The structure of an A-frame ladder is to work perfectly when it's opened and locked properly. Otherwise, it's even worse than an actual straight ladder. You won't get the required support, stability, and ease of use when the ladder isn't spread perfectly in the right way.
How Long Does An A-Frame Ladder Last?
When you take proper care of your ladder after every use, it can last for at least a decade. Additionally, the lifespan depends on other factors like material, build quality, and use. So, if the ladder is built with a metal frame and gets affected by rust and corrosion, then it might collapse within half a year.
Wrap Up
The main job of a ladder is not only to help workers reach a difficult height but also to make sure the person is safe above the ground. A ladder can never be a good one unless it features the ability to assure user safety and good working space.
So far, only Little Giants M26 is one of the best tallest A-frame ladders that can feature everything you can expect including the two things we've mentioned just now. Not only that, it eases even the toughest works of inexperienced DIYers.
Anyway, there are seven other models with a short buying guide we've already talked about in today's article. There should be no problem to find out the best choice after going through these parts of the discussion. Thus, we hope you make a good decision by reading our thoughts about the matter. And don't forget to let us know what's your thoughts on this matter.