Anytime you want to renovate your home, one tool that is invaluable is a ladder. However, if you are planning to work on stairs, problems may arise. As most ladders are built to stand on level ground, it gets a bit tricky if you want to use them on uneven terrain.
But the Little Giant Leveler Ladder can help you safely reach the heights. These ladders are specially designed to be placed on uneven surfaces like stairs, slopes, and so on. Your only requirement is to learn how to use the little giant leveler ladder, and you are good to go. So, let's check that out!
What Is Little Giant Leveler Ladder?
The little giant leveler ladder is a highly adaptable, lightweight, and easy-to-use ladder. You can complete almost any work at home or at on-site projects with these ladders. Also, you can even use this tool to work over rough, unleveled terrain or to hang pictures.
The leveler ladder comes with Giant trademarked Ratchet Levelers, ensuring that you always find flat ground. All you need to do is just step on the tab on its leg and widen it down until you reach the height you need.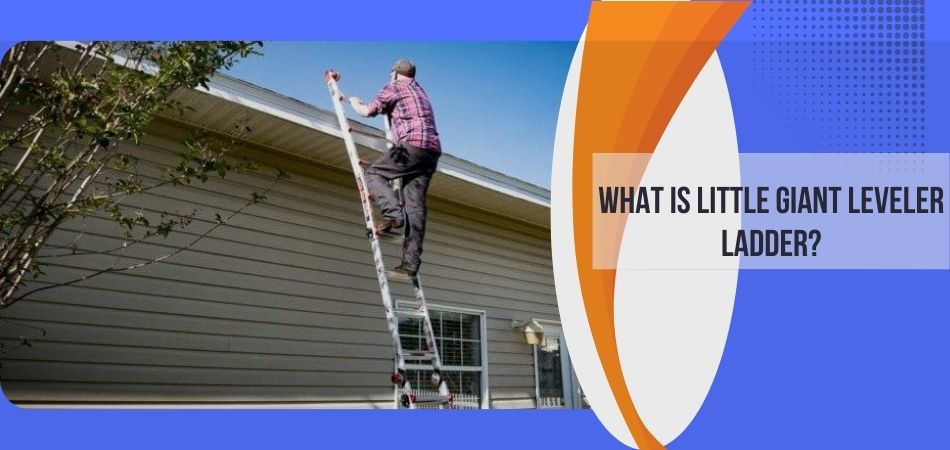 However, you can only place these ratchet levelers on one side of the ladder. And the leveler can release 18cm of adjustable height. Moreover, it comprises new spring-aided Rapid Lock adjusters for easier usage.
Additionally, you can configure the ladder in diverse ways. For instance, it is adjustable to use on extension, staircases, 90-degree, and many different A-frame options.
Furthermore, using the Trestle brackets, you can separate the leveler into 2 A-frames to look like a trestle-and-plank scaffold structure. The leveler's gleaming legs also offer extra safety and stability. Thus, allowing the user to have more comfort and confidence.
This ladder is rated as extra heavy duty. It can hold up to 150kgs in every configuration. Additionally, it can hold 150 kg on both sides of a stepladder configuration. Also, the little Giant leveler comes with hinge locks and rapid lock fasteners. With these features, you can use this handy tool very easily.
How To Use Little Giant Leveler Ladder?
The Little Giant Leveler ladder is designed to be the safest, strongest, and most versatile ladder worldwide. It can transform into an A-frame ladder, stepladder, extension ladder, and form scaffolding.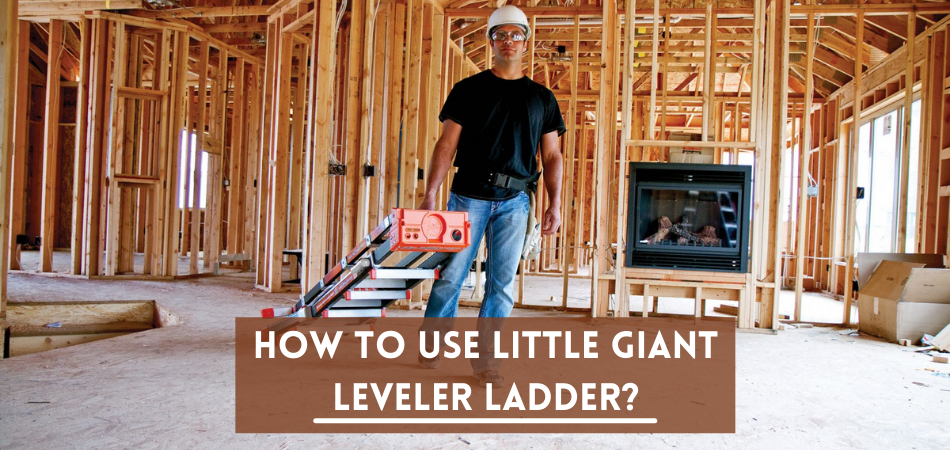 That is the reason you can transform the ladder to work on uneven terrains. Moreover, this particular ladder is 5 times more long-lasting than most ladders as advertised. As a result, it can tolerate the greater weight. But for you to do it, you need to do the following;
Step-1: Unlock the hinge locks and then shift the ladder to form the A-frame position.
Step-2: Pull both slide locks away from one side of your ladder. Then widen this side to the appropriate height you need. This procedure will make one side of the ladder short while the other side is longer.
Step-3: Then put back the slide locks so that you can lock both sides into place.
Step-4: Shift the leveler to the place you want to work at
Step-5: With the slide locks, adjust both sides, or you can slant it to the length you want to allow it to stand on different stairs.
Step-6: Then adjust each side likewise as you go up and down on the staircase.
Using A Ladder Aide
One other way for you to use the little Giant leveler ladder is with the ladder aide. This aide operates like an easily adaptable micro-platform. It enables both feet of the ladder to stay level while you are working on uneven terrain.
How to Use Little Giant Leveler Ladder on Stair
Manually open the ladder to form the standard A shape. You will have to press on its orange knobs to achieve this. The knobs are on the top side of the ladder. They are quite visible and easy to use.
You will have to also squeeze the knobs at the same time with both hands. It will make its hinge locks open and clamp shut internally.
Since it is a small ladder, you have to stretch it to gain height. To do so, you will have to unlatch its side locks. It has 2 visible orange side locks that appear like sturdy handles. You need to pull the thick handles outwards, and that will be toward your body.
Stretch the ladder manually to gain height. Then lock it tightly. You may see little hatch locking holes or openings on either side of your ladder that has the same marking and distance.
Begin with 1 slant of your ladder and stretch it to the height you need. After reaching your desired height, pull its handle inwards facing the ladder to lock its side hatch. Then lock it in 1 of its side holes. Right now, the slant you are using will be much longer than the other.
Carry out the process again with the other slant of your ladder. Just ensure that the present slant you are working on is lower in height to form an incline. The incline can assist you to stand solidly on the staircase.
Make sure that the ladder's side hatches are fully secure and locked.
Finally, you can proceed with your work.
Precautions You Must Take
First, ascend the ladder on a level surface to test its stability before taking it to the stairs or uneven terrain.
After placing the ladder on the uneven surface or stairs, ensure that both of its bases have enough room to stand.
Don't allow the ladder to be too near to the edge of the steps if you are using it on the top half side of the stairs.
Ensure that you place the ladder right on the floor instead of any object that can move.
If you use the lower half side of the stairs, ensure that there is no foot mat or cloth underneath the ladder's base. This can undermine the ladder's grip and stability, and this may lead to sliding forward. Although little Giant leveler ladder never slides or slips, it is advisable to follow every safety measure.
Do not forget to wear the right shoes while climbing on the ladder to guarantee an excellent grip.
If you will use the leveler on your staircase, allow the ladder to incline on the wall. You can also call someone to assist you in holding the ladder firm. This move will surely provide you with additional support, ensuring your safety.
Follow These Maintenance Tips While Using Little Giant Leveler Ladder
After you finish working with your little giant leveler ladder, you have to keep it pristine. With proper maintenance, your leveler can last a very long time. So, let's check out the following maintenance tips.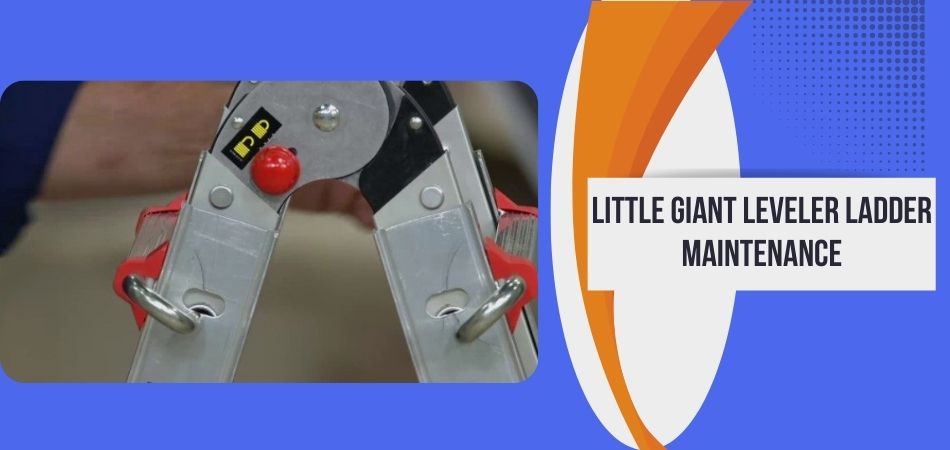 After using the ladder, undo every step you carried out. It will allow the leveler to go back to its streamlined and compact shape.
Clean your ladder at intervals to stop it from becoming slippery and dusty.
Always inspect the ladder's foot grips to check whether any side needs replacing.
At six-month intervals, try to lubricate its hinge mechanism as well as the lock assemblies using dust furniture polish or light machine oil before storing it for a long time.
You don't have to wait for 6 months though, to lubricate the ladder. Do it anytime the condition requires.
If you can maintain your little giant leveler ladder properly, it can last for a very long time. You can use it for about 7 to 10 years consecutively. However, everything depends on how you make use of the ladder. If you use it in excess, it may not last that long. Always make sure to replace any part that requires changing.
Final Thoughts
Once in a while, every person will need a ladder. However, using a ladder to do work indoors and outdoors has always been a challenge. But the little Giant Leveler Ladder has proven to be an exception.
With its ratchet leg levelers, the hinge locks, and the provided ladder aides, you can use the ladder easily and within seconds. Any project you want to carry out is easier with the Little Giant Leveler ladder.
But you must follow the proper guidelines to learn how to use Little Giant Leveler Ladder as discussed in this article.