Ladders serve various applications. You can climb up the roof with a ladder, clean out your gutters, decorate your home, and do other domestic and commercial projects.
But then, it can be very risky to work on a slope with a ladder, especially on crooked surfaces. That is why you must learn how to use a ladder on a slope with all the safety tips you'll need.
Being cautious is always the first step anytime you work on a ladder. You should take the right safety measures to reduce potential harm from a fall. Sloped surfaces can make the ladder slip or shift while you ascend or descend on it, thereby increasing the danger of injury.
However, there are ways to minimize the risks and use the ladder on a slope securely and safely. Read on to know more!
Is It Safe to Use a Ladder On A Slope?
Well, that depends on how you're using the ladder. Ladders shouldn't be used on a surface with a side slope more than 16-degrees or a back slope of more than 6-degrees. However, you can use a ladder on a slope only if the manufacturer says so.
Also, if it becomes a must that you have to use a ladder on a slope, you should make the ground even as you can before climbing the ladder. Uneven ground can make the ladder you are using slip off or shift, leading to a fall.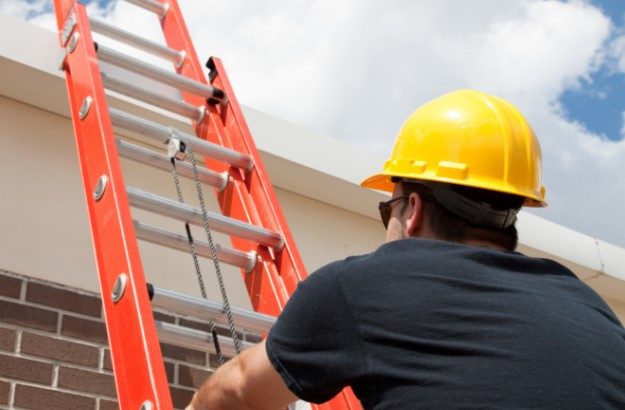 Falling from a two-story building is an experience you should have. That is why you must always use the right ladder for painting 2 story houses or such high-risk jobs.
Whatever you do, always make sure that you have checked it for any sign of a problem before you use the ladder.
But, whether the work you need to do is on a slope or an even surface. Never forget this! Do not place the ladder you want to climb on a spare timber or rocks.
How To Use A Ladder On A Slope?
If you want to use your ladder on a slope or uneven surfaces such as hills, you need to be very cautious. Make sure you take adequate safety precautions. That said, let's walk you through these steps on how to use a ladder on a slope.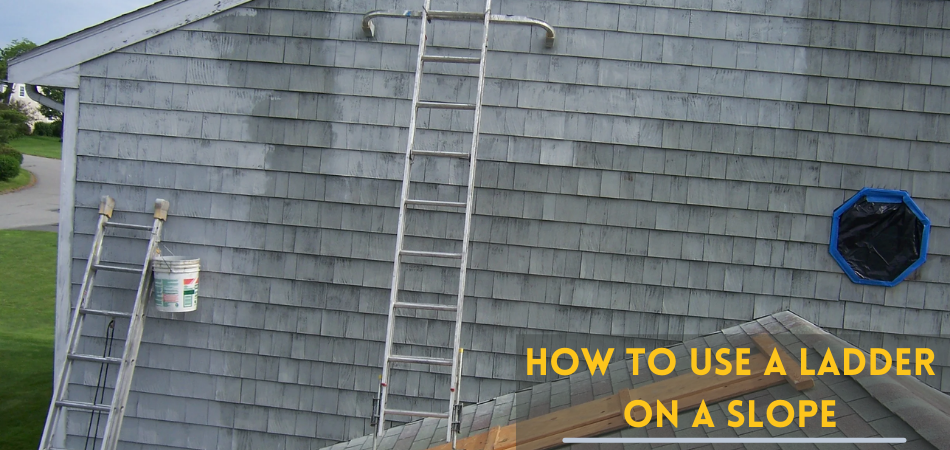 Thing You Will Need-
An extension ladder that reaches the height you need
A ladder leveler for stability
Rope
Two lashing straps
Steps You'll Need to Follow-
Step-1: Examine The Ladder
Before you can commence work with any ladder, it is important to inspect it first. First, you should check the condition of the ladder to make sure that there are no weak rungs. Also, make sure that the surface is solid.
Step-2. Examine The Surface
The next thing is to check out the area you will be positioning the ladder. Make sure that the surface is solid and clean. Never allow any mat or piece of cloth lying around. In addition, you shouldn't place your ladder on surfaces that have a side slope more than 16-degrees or a back slope higher than 6-degrees.
Step-3. Mounting The Ladder
At this time, you need to elongate the ladder then lean it to rest on the wall or building. Position the ladder to the appropriate angle, which is 75-degrees or 1 meter for every 4 meters up. Make sure that the ladder rungs appear horizontal.
Also, use the right leveling tool like the Little Giant Leveler, LSD ladder leveler, or Big Grip Ladder Stabilizer. Then, ascend the ladder to reach the top and, using the rope, tie up both of the stiles to the appropriate point.
Step-4. Lashing The Ladder
Lashing the ladder may not be the best solution. However, it is one of the easiest and fastest methods you can use to secure your ladder when working on a slope. Lashing a ladder has to do with a cable, rope, or any other lashing kit for a ladder.
You can use any of them to bind the ladder up at a safe point to prevent it from falling or slipping while you climb. Anytime you want to lash your ladder, it is recommended to tie it at the halfway up, floor level, and lastly, at the top.
Preferably, it will be better if you can rope in any or a few of your friends to assist you in carrying out this procedure safely. You can also use the ladder stabilizer device to accomplish this same result. Although, you may require to lock your ladder to the stabilizer.
Step-5. Using Ladder Levelers and Cleats
After lashing your ladder and still feeling that it is not quite safe, you can take the safety measure to another level. You can try to safeguard the bottom of your ladder more by bolting it in a fixed position. Most of this process may make use of the ladder leveling feet.
This tool allows you to place your ladder at better angles. You can also add cleats to the process for more safety. Then, just join it with the ladder leveling feet by fastening 1 or more wood 2 x 4s to its sides and back of the ladder feet. This action is an excellent way to prevent the ladder from sliding backward.
Step-6. Constructing Work Platform
This method may be a bit on the expensive side to do and consumes time. However, building a scaffolding for the sloped terrain is one of the safest methods to use a ladder on it. Most times, you will need to construct a portable wooden platform especially built for the ground you will be using.
Make use of supports to make sure that you can place the ladder firmly without any chance of slippage. For example, the platform shouldn't slide, rotate, or tip when you stand on it. In addition, make sure that the platform you build itself has a level surface.
Bottom Line
Learning how to use a ladder on a slope is a must if you're climbing heights of 10 feet or more. But do not forget to carry out a careful risk assessment before you can start work on any height project.
Scaffolding can also help safely move around at a fixed height. Besides, you can make use of the ladder with a competent ladder stabling device. Don't go out there to pick any device you see in the market, though. Instead, make sure to go for the brands that the manufacturers or suppliers recommended having maximum stability to enable you to use it unsecured.