If you live in a multi-story building, you need to know how to use a ladder on stairs. The chances are that your house may require renovation, walls may need painting, or your ceilings need repairing. The same goes if you're a handyman too.
These minor domestic renovations do not happen all the time. But when they happen, you don't have any other option than to look for a ladder.
A ladder will help you reach those high places you need to work on. But, how can someone even use a ladder on stairways? Keep reading to find out.
Can You Use A Ladder On Stairs?
Yes, you can use a ladder on the stairs. For instance, if your stairway requires paintwork, you will need to set up a ladder to paint a stairwell. However, you will need to use it carefully to be on the safe side.
But the safest option is to look for ladders designed especially for such work. Stair ladders are the best options you can use to work on your stairs. Some of them are designed to provide diverse configurations to do more than working on stairs.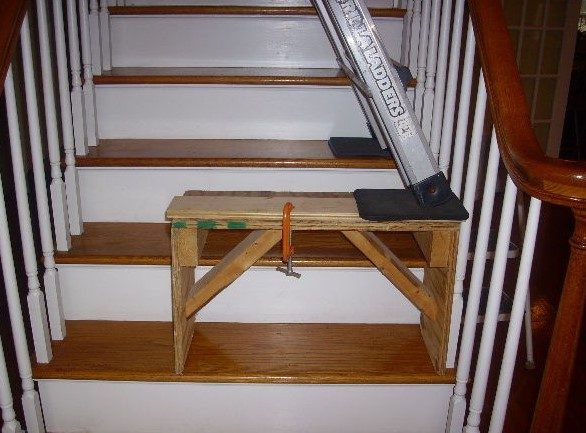 It doesn't matter whether you are a contractor trying to care for your customers or a DIY enthusiast painting your walls or changing your light bulb. When you work with stair ladders, the job becomes very easy, safer to work on heights and stairs.
In addition, look for leg extensions for the ladder you are using if it is not a stair ladder. That will help it become a ladder you can use on stairs for every kind of work. You can also use two different ladders to build a scaffold. However, make sure you do it safely.
How To Use Ladder On Stairs?
You can easily use a ladder on your staircase with a ladder aid. All you need to do is-
Set the bottom on the lower side of the stair and glide the straight side into its base.
The next step is to place the platform on top of the upright.
Lower it continuously until it reaches the same level as the top step. Then insert its locking pins for it to lock in place.
If you are thinking about using a step ladder to work on your stairway, you should consider it thoroughly. The reason is that normal A-frame ladders are not specially designed for stairwell usage. So if you misuse them, you are likely to have accidents.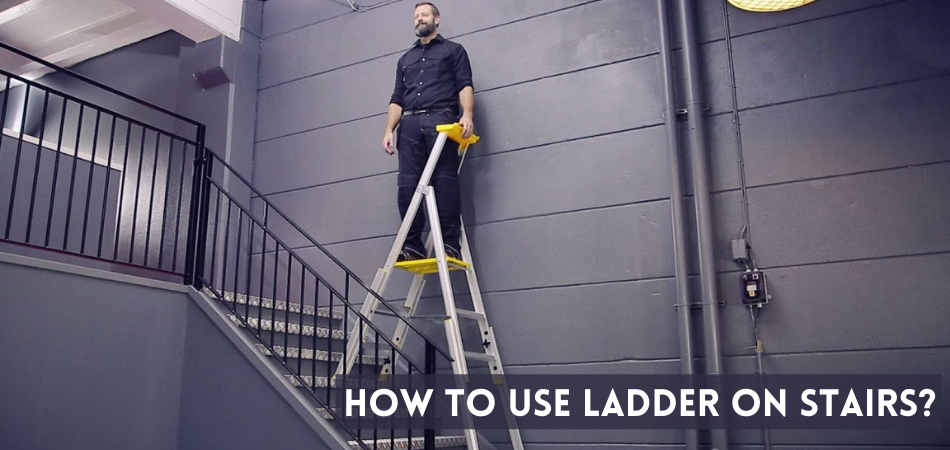 So, to avoid the risks and ensure your safety, you should use ladders that are specially designed to be used on stairs. Also, you can buy other items which can assist you in making use of the A-frame ladders safely on your stairs.
You can even prepare your own small deck or raised platform where you can evenly spread two ladders. This will provide you with a solid place to stand as you do the work.
How to Use Ladder on Stairs – All the Available Options
Let's take a look at all the available options you can try out while trying to set up a ladder on staircases.
1. Invest In a Stair Ladder
Ladders that are specially designed to work on stairs have provisions to adjust the legs. As a result, one part of the ladder will be longer than the other side as required.
Moreover, there are some designs that allow for adjustment of the 4 separate legs. As a result, you can work safely in cramped spaces such as; spiral staircases that don't allow 2 ladder legs on one single step.
But when using the ladder, ensure that its legs are tightly locked in place after placing them in the right position. It is the best way to make sure that there will be no shifting under you as you work.
Also, remember not to reach out too far while you are working on a ladder. Maintain your hip position between the vertical sides of the ladder. But if that is impossible to do, you can reposition your ladder.
2. Use Ladder Tools and Aids
If you're not able to purchase another ladder, it is also possible to utilize the available tools and aids to make your old ladder safer. For example;
Ladder Leveler
One of the aids and tools you can use is the ladder leveler. It comes with one set of contracting legs that attaches to the ladder outside rails.
A ladder leveler length is adjustable. So you can adjust it to the level you require and then lock it safely in place before you climb the ladder. You can use these aids perfectly on uneven ground and stairs.
Extension Ladder Support
An extension ladder support is another option you can use to make your ladder safer. Just as the name implies, this tool is used together with ladders that have extensions instead of the A-frame model. This ladder support appearance is similar to a reversed letter "L."
The topside of this unit is a shelf where the ladder feet rest. The shelf has an elevated lip around its edges which prevents the ladder feet from shifting off. Also, there is an adjustable prop or iron arm below the shelf and on one side.
The shelf can move upwards and downwards along this metal arm to enable you to adjust its support to your desired height. You need to place the ladder support leg on the step. Then, adapt the shelf to enable it to rely on one other step at a 90-degree angle.
Tighten the shelf into position, and you can mount the ladder level on the shelf while you work safely.
3. Construct A Ladder Deck
Another way for you to use a ladder on stairs is to construct scaffolding for yourself. This trick will require a projected wall and 2 ladders if you want this trick to succeed. Then, proceed to;
Get an A-frame ladder.
Place it on the landing above the stairs.
Incline an extension ladder starting from the steps to the projected wall atop the stairwell.
Then calculate the space between the ladders.
Construct a portable wooden deck for yourself quite narrow to match the rails as well as adequately long to maintain their distance from each other
Below each deck end, fix in wooden stops to prevent the deck from sliding off from the ladder but can catch on the rungs.
Position the deck carefully between the 2 ladders
The stand on the deck as you work.
Safety Tips While Using a Ladder On Stairs
First of all, it's highly discouraged to use a ladder on stairs without proper safety practices to avoid a fall. Also, you shouldn't plan to catch yourself while falling because it's quite impossible. Instead, you have to maintain good safety measures and be careful of the following easy safety tips.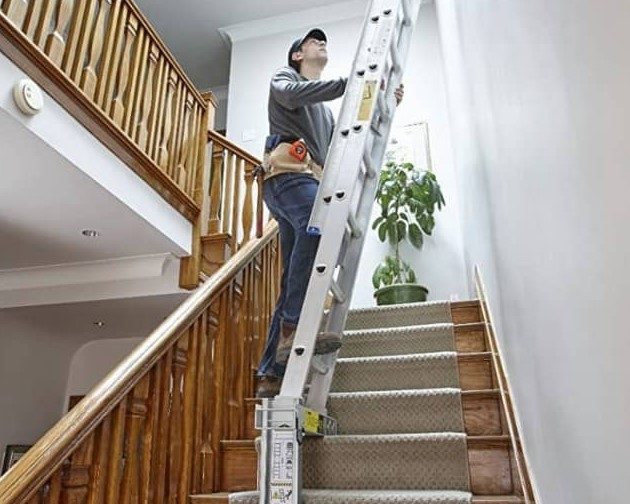 Select the Appropriate Ladder & Inspect its Weight Rating
Ladders are designed in many different size materials, shapes, and ratings. Different ladders are required for different tasks. So, never think that any ladder you get can perform all the tasks you need. There are so many different types of ladders available. So, it is crucial to know which type of ladder is appropriate for each project. Then you go for it.
Examine the Ladder Before Use Always
Always make sure that you inspect any ladder you want to use before making use of it. Examine the ladder properly to check whether it has tears or damages. Also, inspect the locking bars pull the rungs to ensure that they are secure and stable.
Nothing can save you from falling if your ladder breaks while you are on top of it. So, never take chances in inspecting the state of your ladder.
Ensure that the Ladder is Firm Before You Climb On
You should never try to climb on any ladder unless you are satisfied that it is stable enough. That is why you need to set your ladder properly, including clearance and grounding. It is essential to make sure of your safety.
Ensure Your Stability as You Stand or Climb On the Ladder
Most times, people try to reach farther than they ought to when they are on a ladder. Bear in mind that you should maintain the 3-point contact on your ladder at all times. This means either 2 arms and 1 leg or 2 legs and 1 arm.
When you stand on the rung and reach farther than the ladder, the center of your gravity will also move away from the ladder. Thereby increasing the possibilities of you falling off. Always make sure that your body is aligned within the ladder rails.
Don't Carry Any Load while Climbing
Carrying items while climbing on a ladder is one of the commonest threats to your safety. It is very dangerous if you want to multitask while you are on a ladder. Please play safe to avoid becoming an accident victim.
Conclusion
After reading through this entire post, there is no doubt that you now know how to use a ladder on stairs. In everything you do while climbing your ladder, remember to maintain safety rules at all times. Your safety and security are more than any renovation or decoration you may want to do.