Having a good-quality ladder for panting is nothing but a goldmine. You can safely reach the stairwell to clean it off and attach tapes to the parts you don't want to paint. The ladders will also add stability and increase efficiency in your overall painting works.
However, you have to look at a few factors to buy the best ladder for painting stairwell: the type of the ladder, its safety features, duty-rating, strong built quality, and durability. And with over 100+ options in the market, choosing the right stairwell painting ladder is a daunting task with all these factors to be considered.
Therefore, we have made the process easy with our top-five recommendations for painting ladders, with their main types discussed followed by an engaging buying guide.
With this detailed painting ladder article at your hand, you won't have to compromise with safety features and painting efficiency.
Types of Ladders for Painting
First, you have to understand the different types of painting ladders with their specific design and safety features. It will enable you to decide which ladder would actually fulfill your painting requirements quickly.
Step ladders
These ladders come with three to four steps and best suit interior paint purposes. It has a height and reaching capacity from 1 meter to 1.2 meters mostly. When you want to get the step ladders, check their tool tray and additional stability braces. It will ensure maximum safety as you step up the ladder.
Platform ladders
The ladder has the same structure as the step ladder. But it has an additional platform on the top level where you can stand to paint the walls and other places. It ensures better protection. You may look at the safety bar on the ladder tap and anti-slip steps and foot for the platform ladders.
Twin step ladders
The ladders can reach up to 6 meters. Also, both sides have strong steps where you can easily put extra loads. The steps are slightly wider and allow two painters to work from two sides.
Extension ladder
As the name suggests, these ladders are designed for easy extension and folding capacity. If you want to paint the exterior of any multistoried buildings, the extension ladder would be the right choice. These ladders have D-rungs and interlocking rails for stability and can reach up to 12 meters.
Scaffolding ladders
The scaffolding or plunk ladders bring the next level of comfort for your painting jobs. It has two-step ladders on the sides attached with a wider platform. It can accommodate multiple painters at ease thanks to its safety features, stability, and strength. However, these ladders are pricier, and so you better rent them from professional paint shops than buying one for your home uses.
Comparison Table:
The comparison table will quickly enable you to go through the main features of each of these ladders. So, you can compare these five outstanding stairwell painting ladders. It will make your decision easier, particularly if you are running short of time.
| Best Ladder for Painting Stairwell | Height | Ladder Weight | Load Capacity | Material |
| --- | --- | --- | --- | --- |
| Little Giant Multi-position Ladders | 17ft | 38.5 pounds | 300 pounds | Aluminum |
| TOP RUNG Extension Multi-Purpose Ladder | 15ft | 34.35 pounds | 300 pounds | Aircraft-grade aluminum |
| Cosco Telescoping Multi-Position Ladder | 14ft | 25 pounds | 300 pounds | Aircraft-grade aluminum |
| Little Giant Ladders Velocity with Wheels | 22ft | 39 pounds | 300 pounds | Alloy aluminum |
| Best Choice Products Multi-Purpose Ladder | 12ft | 28.75 pounds | 330 pounds | Anodized aluminum |
5 Best Ladder for Painting Stairwell 2023
The painting ladders are versatile and can be used in different jobs at home. Also, thanks to their brilliant construction, the painting stairwell ladders will last a lifetime, given that you pick the right one following our buying guide.
1. Little Giant Multi-position Ladders: Top Pick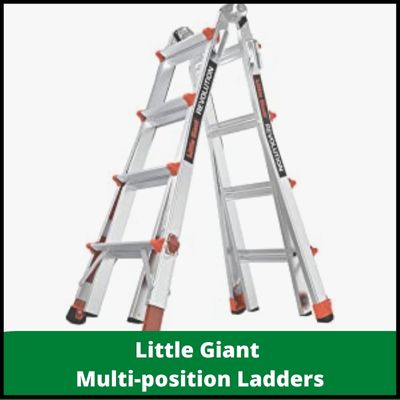 The Little Giant is by far the best ladder for stairwell painting due to its next level of design and safety. It transforms into a step ladder, platform ladder, and even scaffolding ones when need be.
Plus, the ladder permits you to adjust the height to meet your painting necessities. You can use it both indoor and outdoor with such easy adjustability.
Also, you can use the ladder on both interior and exterior paintworks. It increases versatility and also makes sure you don't need to invest on another ladder.
Easy and quick configuration
The ladder comes with palm buttons. You can use it to configure the ladder according to project requirements from extension to A-frame or even other styles; it only needs a slight push on the button.
Position and height adjustment
Thanks to the ladder's rock lock system, you can quickly adjust its height and position. You can choose from 32 adjustments and configurations to meet your necessity. Also, the patented locking is reliable too.
Leg leveler
At times, you may have to work on uneven grounds. The Little Giant ladder makes it easy with its leg lever feature. It comes with Ratchet leg levers. So, you can adjust the two legs and enjoy better stability even on uneven terrains.
Easy movement and portability
The ladder also features a wheel and integrated tips. These are Revolution's high-end products, and make sure you can transport the ladder from position A to position B without hassles.
Safe and user-friendly
The ladder is made with all users in mind. Its locking system is easy and secure. Plus, the wider design allows you to stand on its leg comfortably while you carry the painting materials.
Specifications
Height: 17ft
Ladder Weight: 38.5 pounds
Load Capacity: 300 pounds
Material: Aluminum
Dimension: 57 x 25 x 9 inches
Why You Should Buy
The Little Giant ladder will be a perfect choice for your painting works. It has multiple configurations and ensures great safety features for painters.
2. TOP RUNG Extension Multi-Purpose Ladder: Best for step ladder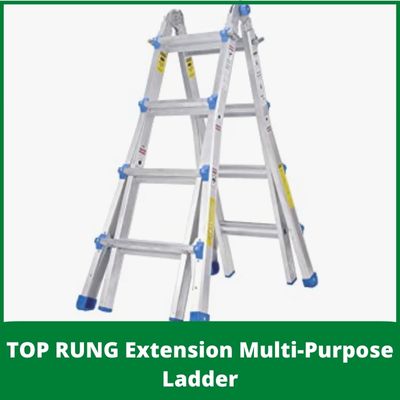 The Top Rung ladder for stairwell painting comes fully assembled and provides convenience in using it irrespective of your painting requirements. The ladder exceeds the safety requirements of ANSI thanks to its aircraft-grade aluminum used for the construction. So, you will enjoy maximum stability and durability with this multi-purpose stairwell ladder.
Also, the rungs are made wider for easy and comfy standing. Lastly, its compact design makes it easier for you to fold and store it when not in use.
High-quality construction
When you look at its aircraft-grade aluminum construction, you cannot help admiring it. It ensures maximum durability and protection and meets ANSI industrial requirements that you can depend on for stability.
Better comfort and protection
While you stand on the ladder, its wider rungs will ensure you find it suitable. Plus, the feet are rubberized and slip-resistant only to elevate their safety and comfort. Thus, you can focus better on paint works.
Multiple configuration and adjustments
You can only transform the ladder from stepped to plunk and extension with one push-button. Plus, you can quickly adjust its height with the rock lock system.
Convenient use
You can use the ladder as soon as it is delivered to you since it doesn't need any assembly. Also, its storage and folding facility is user-friendly with a compact design. It also helps in moving it up and downstairs.
Affordable and versatile
It serves 5-in-1 ladder necessities without breaking your bank account. It converts into a standard step ladder, extensions, two-side ladders, etc., to help you complete any job where you have to reach high places.
Specifications
Height: 15ft
Ladder Weight: 34.35 pounds
Load Capacity: 300 pounds
Material: Aircraft-grade aluminum
Dimension: 57.5 x 27 x 11 inches
Why You Should Buy
Many paint workers complain that their feet ache due to the step of regular ladders. This ladder has a 1ft step for comfortable standing on it. Also, it meets ANSI safety requirements which provide better reliability too.
3. Cosco Telescoping Multi-Position Ladder: Best for extension facility
The Cosco ladder is convenient to use, affordable, and fits smaller apartments with compact storage facilities. Hence, you can count on its dependability and safety while painting stairwells.
The ladder quickly converts from step ladder to scaffold, extension, and fully functional wall paint ladder. It adds versatility to your paintworks and different uses at home.
On top of everything, the ladder features wider feet and rungs with slip resistance. So, you won't fall off the ladder even it gets wet. It truly increases your work convenience and stability to reach the stairwell.
Versatile use
The 5-in-1 ladder is truly versatile, and you can use it in many projects. Whether you want to paint walls, stairwells or clean the gutters, this telescoping ladder will fit into every place to help you do the job perfectly with 32 configurations.
Easy and convenient
You won't need additional tools to convert the ladder from one type to another. Also, it folds entirely flat. So, you can store it easily. The ladder also supports quick adjustment of the heights to reach any position.
Secure and stable
The ladder is made with aircraft-grade aluminum. It ensures maximum durability and stability with an I-beam design. Plus, the feet are slip-resistant. So, you can stay on your feet comfortably without any chance of falling off from it.
Patented locking
The locking and hinge design of the multi-position stair ladders for decorating features patented design. It is easy to lock and adjust the heights. Plus, large springs allow easy folding for quick storage.
Easy portability
At 25 pounds weight, the Cosco telescoping ladder is the lightest on the list. Plus, its telescopic feature means it is compact when not in use and so, you can fold it and take it to any place at ease.
Specifications
Height: 14ft
Ladder Weight: 25 pounds
Load Capacity: 300 pounds
Material: Aircraft-grade aluminum
Dimension: 7.68 x 22.44 x 42.52 inches
Why You Should Buy It
The Cosco telescoping ladder is meant for apartment users where you have to reach different places for painting, storage, and clean-up jobs. Also, it is stable and secure for heavyweight persons.
4. Little Giant Ladders Velocity with Wheels: Best portable ladder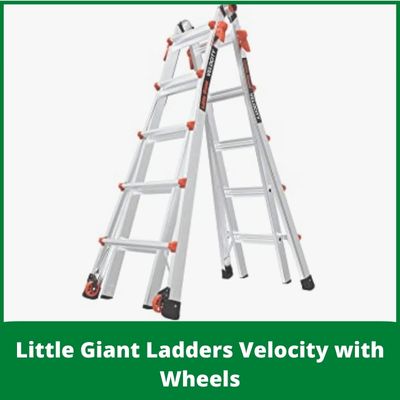 The Velocity ladder from Little Giant has a 22ft reaching capacity. So, you can use it to paint multistoried buildings and stairwells comfortably and easily.
Its conversion from one type of ladder to another is fast and easy. You can, thus, convert it to meet your project requirements, from stairwell painting to wall decorations.
The ladder is stable and secure with 300 pounds weight load capacity. So, you can confidently step on it and do your job.
Safety standards
The best part about the Little Giant velocity ladder is its safety features, including locks, hinges, and non-slip foot. It exceeds ANSI and OSHA safety requirements and adds stability to your paintwork.
Higher reach
The ladder supports up to 22ft reaching capacity. Thus, you can easily paint multistoried buildings with it. Plus, you can reach the roofs and walls easily. You will reach different heights at ease when you convert it into different styles with added adjustability and configuration.
Different configurations
The ladder comes with a rock lock system. It enables you to configure the height, position, and ladder styles for your needs. Its 5-in-1 conversion with secure lock is top-notch and secure with premium protection.
Quick transport facility
The multi-purpose ladder for painting stairwell has wheels and tips. The wheels glide easily over stairs too and support convenient movement in different locations. It makes paintwork easy and fun.
Easy usability
The ladder is ideal for all types of work to reach any heightened position. You can use it for painting, decorating and whatnot! You will also love the fact that it comes fully assembled and is ready to be used as you receive the ladder.
Specifications
Height: 22ft
Ladder Weight: 39 pounds
Load Capacity: 300 pounds
Material: Alloy aluminum
Dimension: 67 x 27 x 9 inches
Why You Should Buy
The 22ft ladder is ideal for reaching multistoried buildings. You can use the best ladder for painting stairwell for stairwell along with interior and exterior works of different kinds.
5. Best Choice Products Multi-Purpose Ladder: Best versatile ladder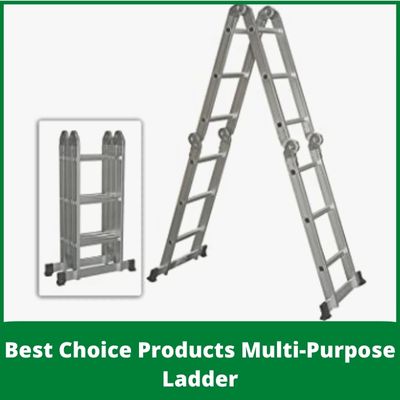 Best Choice Products is known for manufacturing different items for home uses. Their multi-purpose ladder can be used to paint stairwells, clean gutters, and reach false ceilings to store different items easily.
The ladder is highly convertible, and you can convert in 7 various styles. It enables you to transform its step ladder, twin step, extension, etc., quickly.
Also, the ladder is stable with aluminum construction. It has rubber foot braces and non-slip steps for security as well.
7-in-1 functioning
Whether you need a scaffolding ladder, extension ladder, or a regular step ladder, this item will quickly convert into the required ones. It has rock locking and a stable hinge which makes these conversions easy and safe.
Brilliant protection
The ladder promises maximum safety features for you. The pads have protective rubbers and a safety lock. So, it adds stability and strength as you step on the rungs and perform painting, wall decorating, cleaning, and other jobs where you need to reach higher positions.
Durable design
The ladder is made with anodized aluminum. It has a rust and corrosion-proof facility, which makes it a durable investment. This could be the last ladder you will buy, thanks to its incredible construction.
Easy storage
The ladder is extremely lightweight. Also, it is pretty compact. It means you can fold and store the ladder easily. Also, its lightweight design means you can transport it without the help of a second person if need be.
Added protection
The ladder comes with rubberized feet and wider steps. So, you can stand on it confidently, knowing that it won't slip. Plus, it has more load capacity for two people to work simultaneously on the ladder.
Specifications
Height: 12ft
Ladder Weight: 28.75 pounds
Load Capacity: 330 pounds
Material: Anodized aluminum
Dimension: 10.75 x 14.75 x 39.75 inches
Why You Should Buy
You can work in balconies, outdoor space, walls, and stairwell painting with the BCP ladder. It is durable and affordable, which will fit your requirements at ease.
What to Look For Before Buying a Ladder for Painting Stairwell
The best ladder for painting stairwell must have some specific feature to withstand the project requirements. You can't buy any random ladder and expect it to fulfill the safety and convenience you want.
Hence, you must look at the most important factors to get the ladder for painting stairwell and decorative purposes. The list includes-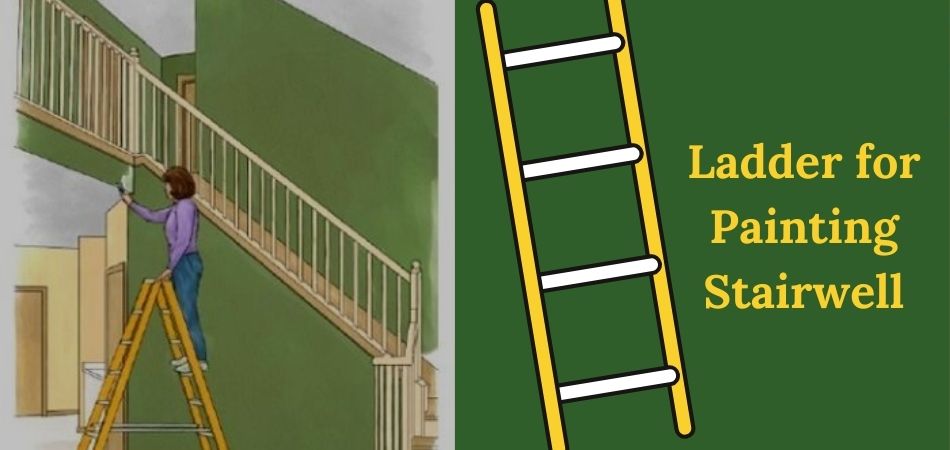 Ladder Height
Firstly, determine the highest point you will reach to complete the stairwell, interior, and exterior painting. Then, buy the ladder accordingly. Experts suggest that the standard extension ladder needs to be at least 2.5 meters long.
But, you have to consider the highest point for the 3rd or 4th rung also. It is because standing on the 3rd or 4th step is the safest option for all.
Ladder Material
When choosing the stairwell paint wall, check the working environment and the material used in the ladder. It is crucial since different materials will be beneficial for certain working environments. You will find that the ladder manufacturers use wood, aluminum, and fiberglass for these ladder productions.
Wooden ladders are the heaviest of all. Also, these are cheaper, but the oldest version of ladders and have become an extinct tool.
Next on the list is the aluminum ladder. Manufacturers use aircraft-grade or anodized aluminum for these ladders. These ladders are lightweight, low-priced, and stable enough for most painting works with ease. If you have electrical outlets close to the working area, working with the aluminum ladders may not be a safe option due to the electrical conductivity of aluminum.
The fiberglass ladders ensure the highest safety and durability. These ladders are lightweight, stable, and have no electrical conductivity. However, they are also the priciest ladders on the list.
Duty Rating or Load Capacity
The duty rating of the ladder refers to its actual weight carrying capacity. It is crucial since the duty rating will determine how much weight you can put on the ladder, including your weight and paintwork equipment and materials.
If you have any coworkers, you have to consider his weight too to include in the load capacity of the painting ladders.
Extra heavy-duty ladders: It has a Type IAA rating with 375 pounds load capacity.
Extra Heavy-duty ladders: At 300 pounds weight carrying capacity, these ladders have a Type IA rating.
Heavy-duty ladders: The ladder can carry up to 250 pounds. It has a Type I rating.
Medium-duty ladders: The ladder rating is Type II with a carrying capacity of 225 pounds.
Light-duty ladders: These ladders are the best option for home use. It has a Type III rating and may carry 200 pounds weight.
Safety Features and Convenience
The goal of these ladders is to offer you maximum protection as you step upon them. Hence, consider its safety features closely. It includes non-slip and rubberized steps and rungs. Also, the rung lock needs to be secure and dependable.
You also should look at the easiness of converting the ladder from one type to another. For instance, Little Giant Multi-position Ladders come with a simple push-button for conversions in different styles when need be. The ladder also must be lightweight and support quick folding for storage.
Frequently Asked Questions (FAQs)
What type of ladders do painters mostly use?
Painters will generally use step ladders (A-frame) for their painting. Its final step has a square platform that supports the easy and safe standing of the painter along with his painting tool and material.
How to use ladders safely for painting?
You have to pick the right ladder with the necessary load capacity and height requirements. Also, remove the junks from the painting spot and work in a well-ventilated and lighted spot to avoid hazards.
What type of ladder is used for painting house ceilings?
Painters mostly use articulated and extension ladders to paint the wall and ceilings at home. Ensure it has the proper height to reach the working point without stretching too much of your arms.
Why should you never paint the ladders?
When painted, the ladder may hide serious problems such as defective steps, legs, and damaged parts. It can potentially increase the chance of accidents, and so, you must not use painted ladders for any use.
What is 4 to 1 rule for ladders?
The 4 to 1 rule for ladders refers to the ladders' ability to be one foot away from the leaning building, four each four feet height. It adds stability and safety for the uses.
Conclusion
Our discussion includes the five best ladders for painting stairwells that could accomplish your painting projects at ease. Plus, you can use them for different chores, including wall paint, decoration, storage, etc.
All these ladders are equally adept at performing the best with their premium features. But, the Little Giant Ladders Velocity with Wheels is our top pick. It comes with a 22ft reaching facility and 300 load capacity, and so is the all-rounder ladder that you might never want to miss out willingly. It has great safety features too to keep you safe and work happily.