Poorly loaded and secured cargo on vehicles leads to road accidents at an alarming number. In fact, a study conducted by AAA's Foundation for Traffic Safety shows that road debris cause more than 25,000 car crashes in the U.S. each year.
This is especially important while transporting a ladder since its large size makes it difficult to pack into the truck bed.
So, how to transport a ladder in a pickup truck? What are the industry safety rules?
To move your ladder behind your truck, first secure it to the truck body. Use a ladder rack that fits into a truck bed or roof and use distinct clamps and bolts to secure the ladder to the rack.
Well, there are other ways to secure the ladder, especially if you currently don't have a ladder rack. Let's find out all the safe ways to transport your ladder using your pickup truck.
Why Is A Ladder Rack So Important For Transporting A Ladder?
Maintaining proper safety habits with ladders is essential while using them. When handling ladders in a truck, safety becomes even more important. Loading and unloading ladders require significant effort, which is why you should invest in a high-quality ladder rack.
There are a handful of reasons to consider investing in a good quality ladder rack which is as follows: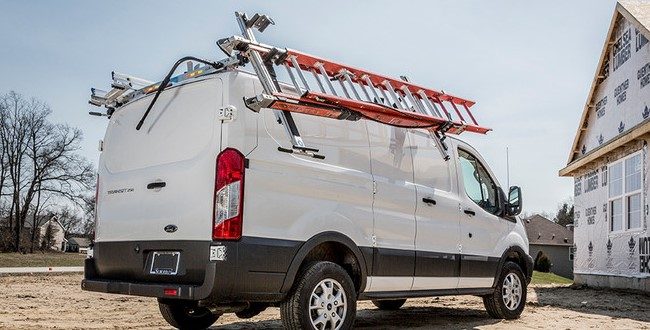 Increases Safety
Using a ladder rack when loading and unloading a ladder or other bulky items reduces the risk of accidents to a considerable extent. You may want to consider one of the modern ladder racks featuring easy-to-use mechanisms. A rack of this kind boosts work efficiency and reduces the risk of workplace injuries.
What's more, these racks save you from the risks of property damage or fatalities when being hauled on the highways.
Enhances Productivity
By using a rack, you spend less time and energy while loading and unloading your ladder. The process only requires one person to lower and raise the ladder while the others do other tasks. As a result, your crew accomplishes more work.
Better space utilization
The space within trucks and vans is rather limited. It makes space management even more challenging when bulky items like ladders are present. The ladder rack for vans and trucks allows you to create more space in the truck bed or inside your van for carrying more cargo.
Simply put, regardless of which ladder rack you choose, you will avoid potential accidents that could land you in hot water. There are many contractors who have closed their doors because of workers' compensation claims. A number of pickup owners have also faced lawsuits due to ladder falls. By securing your ladder firmly on a rack system, all these issues can be averted.
How To Transport A Ladder In A Pickup Truck?
It is imperative to consider the following when carrying ladders or other bulky items, whether you are a contractor by profession or a homeowner: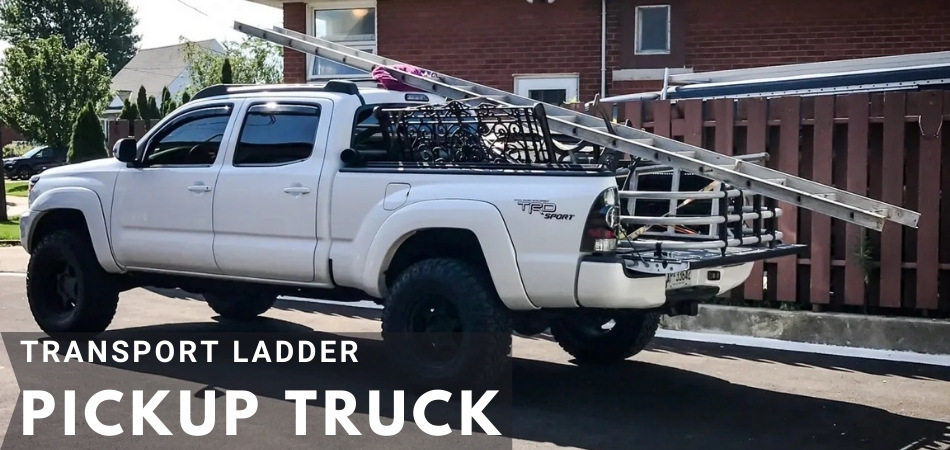 1. Availability of Space
A ladder is almost impossible to carry inside your van, although there are innovative rack systems that make room for it. If you are driving a pickup truck, you need to be strategic as you position your ladder in a way that is safe and convenient.
2. Safety on the Road
If you drop your ladder off your truck or van, you might cause an accident and be subject to hefty fines or even a jail term.
Tips to Transport Ladder on a Van or Truck
In essence, the most important thing to consider when transporting a ladder is safety and convenience to accomplish the job without any issues. Regardless of the type of vehicle you use, you can accomplish the task safely employing a number of techniques. Take a look:
1. Using a Van/truck Ladder Rack
Using a ladder rack is the most efficient and safest way to transport ladders. Ladder racks for vans and trucks are one of the greatest ways to outfit your vehicle for work.  In addition to cargo handling, it is also suitable for vans and trucks owned by homeowners.
2. Transporting a Ladder on a Truck With No Ladder Rack
In reality, not every contractor or homeowner owns a ladder rack that they ought to carry in their van or truck. Some don't even have trucks; some need a ladder for cleaning gutters occasionally. If that is the case, they ought to lease or borrow whenever they need to complete a certain task.
In such circumstances, you need to think outside the box to ensure that you do not risk your life or that of other road users.
Here are steps to follow:
You cannot transport a ladder in the bed of a pickup truck, so if you must transport it, apply some cushioning wherever it will stand.
In order to load the ladder, it should rest on the cab and lean down to the closed tailgate.
An extra set of hands may be required to lift and stabilize the ladder.
Using a ratchet strap, you can secure the ladder through the cab as you open the door.
Using another strap, secure the ladder's lower end. If possible, consider using weight to secure it further down.
Attach a red ribbon to the ladder to caution other road users.
Using a van without a rack makes it difficult to tie the ladder down since it is quite a challenge to hold down the ladder.
In order to prevent damage to the van roof or sides, you will also be in need of cushions or rags. In this case, ladder racks for vans are a great idea to prevent accidents.
Bottom Line
Now that you have fully realized how to transport a ladder in a pickup truck, things should be easier for you. Keep in mind that you should never skimp on the security of your cargo.
Tying down your equipment properly is a responsible and safe practice. Your fellow drivers who share the road with you will appreciate it. Not to mention, the ladder and your pickup itself will be in good shape as well.