You must get on your roof to clean the debris and fallen leaves over your house, at least once in a while. Using a ladder is the most convenient and rational way to get up there without any hassle.
However, if you fail to stabilize the ladder, accidents like falling from it or tripping in the steps are warranted. In fact, CDC says that 7 deaths from fall are occurring every hour, anticipating by 2030 with the growing numbers.
So, how to stabilize ladder on roof?
You need to use ladder stabilizers to keep a ladder firm and stabilized on the ground and against the roof. You can use ladder extensions, hooks, levelers, etc. to keep the ladder stabilized. Besides, safety using of ladders is also important. 
There are some easy tricks and tips that you can follow to perfectly position the ladder and keep it well-grounded. Let's check out some of the quickest and easiest ways you can stabilize a ladder.
Is It Safe To Put A Ladder On The Roof?
Yes, you can easily put a ladder on a roof. However, how firm you can put a ladder on a roof is the burning question you need to answer. If you don't have a clean and even surface, you will have to use different stabilizing tools for the ladder to stay firm on the ground.
Besides, use the ladder depending on the purpose and house size. If you have a 2-story house and have do paint jobs to do, ladder for painting 2 story house. be sure that you're not compensating with the wrong ladder size.
Plus, if there's no sidewall on the roof to support a ladder head, stabilizers are also needed in this case. And if you want to put a ladder on the rooftop, you will need a pivot ladder tool or ladder pads. It will be attached to another ladder that will be lying down on the rooftop, and the main ladder will be placed over it.
Ladder Safety Guide: How To Stabilize A Ladder On Roof?
So, here's what you need to do to stabilize a ladder on a roof. You have to start with inspecting the ladder's position from the ground to keep it firm so that you can easily climb to the roof.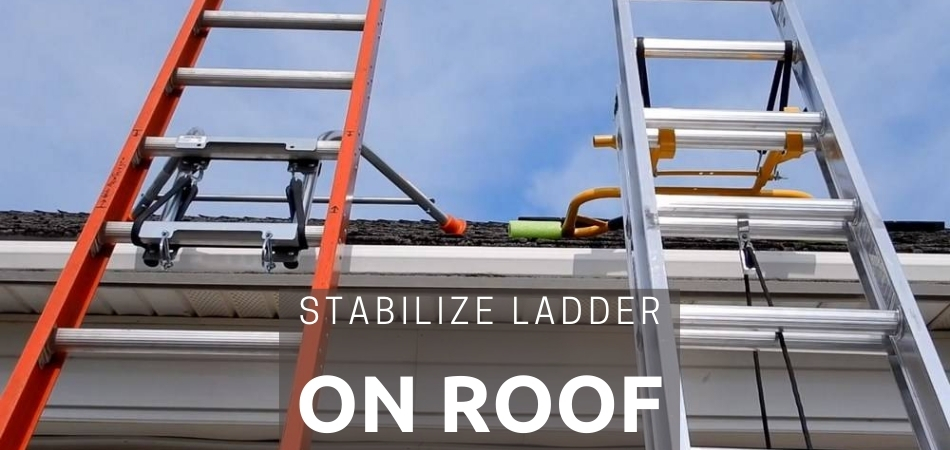 Step 1: Check the ladder
This is the very first step you need to take into account. Check the entire ladder if it has any issues that may cause problems. Is it fully functional? If yes, then does it have any oil or grease on the steps? If yes, you need to clean it up and dry it before you put your feet on it.

Step 2: Set the base
The base is the primary position you to stabilize. Unless you have a firm surface beneath, the ladder will hardly stabilize on the top. Often we find muddy and soft surfaces for the ladder to stand on, so you need to be more careful while erecting the ladder on such surfaces.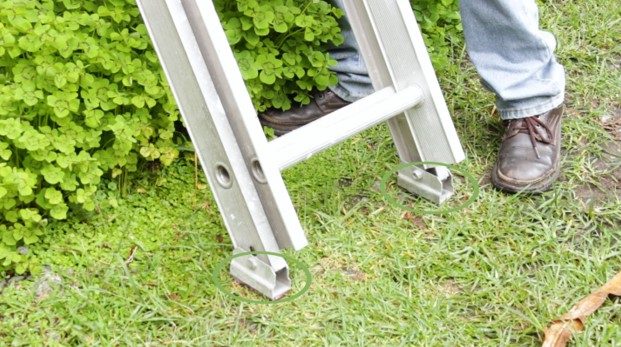 Now, when you have a smooth and firm surface, you can set the ladder legs at a ratio of 4:1. That's for the case of straight and extension ladders. If you have any other type, you should make sure that the A-frame of the ladder is properly locked.
Get rid of any kind of debris or dirt, thick mud, and other little things that may cause the ladder base to shake.
Step 3: Settle the top
Now, as there's a firm and level base, it's time to keep your eyes on the top of the ladder. Make sure you are not carrying a huge number of tools that can increase the weight and pressure on the ladders. You can always double-check the weight capacity of the ladder before you climb on it.
Now that you have leaned the top of the ladder against the roof's side, you have to tie it with rope or a ladder hook to keep it firm over there. But what if you don't have space to attach the ladder top?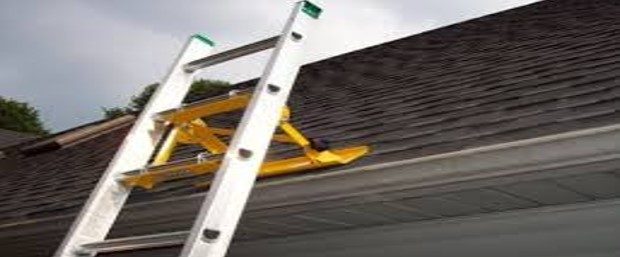 Well, in that case, you need something called a ladder stabilizer. The ladder stabilizer is an attachment that is attached to the ladder and provides it a wider surface to lean against. It works as a flat surface for the roof, and you can keep the ladder firm against it. You can use the Roof Zone 19-inch Stabilizer for the best performance.
You can use different types of stabilizing tools to stabilize the ladder on any type of surface and roof. The following section discusses a number of stabilizing tools that you can use to keep the ladder straight and firm from the ground level.
4 Ladder Stabilizing Tools You Should Use
You can use multiple stabilizing tools to keep the ladder firm on the ground and against the roof, as well. These tools include stabilizers, hooks, extensions, and levelizers.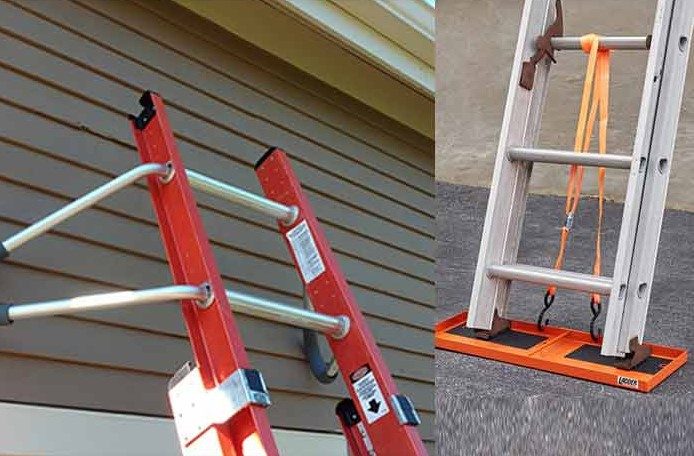 1. Ladder Stabilizers
Ladder stabilizers are found in two types – fixed and adjustable. You have to check if the ladder you are using supports fixed depth or adjustable type of stabilizers. Then again, try to find out if the stabilizer is suitable for a fiberglass or aluminum ladder.
2. Hooks
Ladder hooks are used to firmly stabilize the ladder on the rooftop. You can find two types of ladder hooks in the market of two different sizes – 80 mm and 40 mm hooks. Check with your ladder manufacturers which hooks suit it the best.
3. Extensions
Extensions are used with ladder feet to give them more rigidity and firmness. It helps the ladder to be stable even on an uneven surface. So, if you fail to find a level surface, using an extension will help you in a great deal in this case.
4. Levelizer
Levelizers are used to keep the ladder straight and firm on slope surfaces. It has spikes and offers slip-resistant grips that let the ladder stabilize on such slope grounds.
Where Should You Place A Ladder On The Roof?
You can easily place a ladder on the roof over another ladder. First, use a ladder to lie down over the rooftop and use a pivot tool to place another ladder over it. This way, you can easily place a ladder on the roof.
Final Words
If you know how to stabilize ladder on roof, it gets easier to do any repair and maintenance work over the roof. From cleaning to painting or even changing the roof tiles – a stabilized ladder is a blessing.
Trying to stabilize a ladder when it comes to working on the roof is a daunting task, especially on uneven ground or if the roof side is not flat. Thanks to stabilizer tools, it's a problem that can be solved with ease. We hope this article guides you to adopt these options and make your roofing job more convenient the next time!