When it comes to painting, whether it's exterior or interior, a ladder is a must-have tool. What equally important is, knowing the ladder safety tips to use while painting because it's a risky tool if not used properly. According to NACHI, falls from ladders cause over 300 deaths each year, in the U.S. alone.
Well, that's a lot to take in! However, you can easily avoid such a catastrophic outcome from your favorite ladder if you follow some safety tips. And that's what we're discussing today, the major safety rules to know as a pro painter. Let's get on with it.
Follow These 7 Ladder Safety Tips While Painting
Whether you are painting indoors or outdoors, you may need to use a ladder to reach tall or nook and cranny places. Well, using a ladder can be pretty risky if you don't maintain the proper safety precautions. You don't have to follow a lot of tips, and here are some tips that will be good enough to ensure proper ladder safety.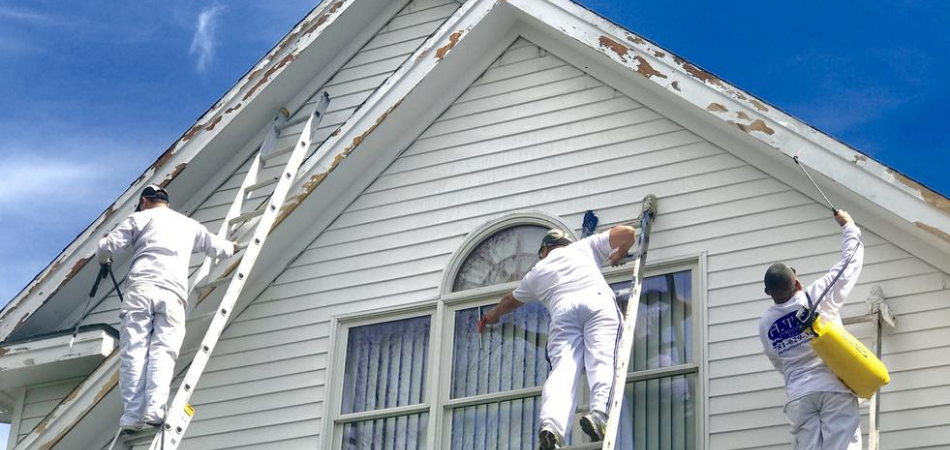 1. Know the Ladder Type
As choosing the right ladders for painting is essential, knowing the types of ladders will keep you ahead of painting safety. Here are some of the typical ladder types, have a look-
Multi-Purpose Ladder: A multi-purpose ladder makes painting safe and easy, and can be set up in many ways. You'll find this ladder from 13′ to 26′.
Extension Ladder: Consisting of two or more sections, an extension ladder is used to reach tall areas. This ladder comes in many sizes, from 16′ to 40′, and is mainly used for exterior painting.
Platform Ladder: A platform ladder is an a-frame type ladder that has a small square landing on top. This ladder is a good choice to paint 8-9 foot high walls, mainly for interior painting.
Tall Step Ladder: Tall Step Ladder is also an A-frame ladder with stabilizer bars on one side and a supporting structure on the other. It is not a good option for painting because it's tough to set and adjust on height.
Telescoping Ladder: Telescoping Ladder is a type of extension ladder, adjustable to different lengths. It's perfect for painting and the easiest to store.
Short Step Ladder: Short step ladder is good for basic interior and exterior painting-related activities. You can get it in 2, 4, or 6-step variants.
2. Inspect the Ladder before Climbing
After getting the right ladder, the next thing you have to do is inspect the ladder. If you identify any damage or compromised integrity, do not go for temporary repairs instead of permanent ones. Here are the things to inspect before you climb your ladder for painting:
Lacks Structural Integrity
Has Loose Parts
Broken or Damaged
Unstable
Slippery Materials on the Steps
Ladder's Foot (if They Can Endure High Pressure)
3. Setting Up the Ladder
It doesn't matter where you're placing the ladder, proper setup is the key to ensure safe and risk-free ladder usability. Setting up the ladder is as easy as climbing it, and with a few steps, you can stationary it properly. Here are the steps:
Step – 1:  Tilt the ladder against the wall and place it at a 75-degree angle from the ground.
Step – 2:   Ensure accurate ladder support by placing the ladder feet 1.5 meters away from the wall.
Remember, don't place the ladder angled too far as it may slide it off, causing an accident. So setting up the ladder at an angle of around 75 degrees could be the proper solution.
4. Secure the Ladder's Feet
The feet of the ladder will withstand almost all load and therefore require high attention when placing it. You can follow different ladder feet grounding solutions based on your ground surface. Some of the standard solutions are included below-
Use a ladder that comes with non-slip feet while using it on a flat surface.
Another way to keep it from sliding off is using having a ladder stopper
5. Secure the Ladder's Top
Alongside securing the ladder on the ground, securing its top is also essential to prevent any wobbling. Poor top securing system can cause the ladder side off, leading to serious incidents. Here are some steps you can follow to secure the top side.
Never rest the ladder against window sash, gutter, windowpane, or anything that can move or break.
Attach a hook to the ladder to secure it while working at a constant height.
Utilize a pair of rubber mitts to prevent the ladder from falling or slipping.
Tie the top of your ladder to any base that can hold it tight.
6. Securely Place the Paint, Brush, & Other Accessories
Since you are climbing the ladder for painting, you have to climb with paint and other painting accessories. So, how to hold paint while climbing or working with a ladder by maintaining three points of contact? Here is how you can hold the paint reliably-
A cut can hook can significantly help to hold your painting stuff.
You can also use an "S" shaped hook.
Make a customized paint holder with solid metal.
You can use a ladder tray to hold your painting-related accessories.
7. Some Basic Safety Tips
Along with maintaining all the safety tips mentioned above, you also need to follow some other ladder safety tips. Some basic ladder safety tips are included below. have a look-
While using a ladder outside, beware of the weather condition.
Make sure the steps, rugs, or feet of the ladder have no slippery material on them.
Always use non-slip shoes while climbing any type of ladder.
When you're using an extension ladder, be sure all the rugs are locked in place.
Keep "Three points contact" in mind, with two hands, two feet, and a hand) while climbing the ladder.
Be aware of the ladder weight capacity and make sure it can take your weight and withstand heavy loads.
Try to use a ladder spotter when you're using the ladder for over 30 feet on 9-meter height.
Final Words
Now that you know the ladder safety tips to use while painting, climbing should be much safer than ever for you.
Not maintaining the proper safety rules while using a ladder for painting can lead to unpleasant consequences. Therefore, whether you are a pro or beginner painter, always pay attention to safety precautions.
Use only the right type of ladder (depending on your application and place) and secure it well before climbing. If possible, try to use the non-slip ladder mat if you are working on a flat or level surface. You can also tie the ladder's topside with a base for extra safety.