Colors in ladders serve aesthetic purposes and are also used to communicate a message to the users. Not sure what I mean by that? "Ladder color codes"- what do they even imply?
If we break down ladders to the capacity they can hold, there are three basic categories. These categories include light-duty, medium-duty, and as well, heavy-duty.
Most times, color codes are used to identify the ladders' weight capacity. However, not all ladders can carry all weight capacities. So let's learn a bit more about the different ladder color codes and how these codes ensure your safety.
Are All Ladders Color Coded?
Sadly, not all ladders come with distinguish color codes. Besides, not many people understand the value of different ladder codes and how they are vital for safety precautions. Also, some ladder manufacturers don't support the idea of using the ANSI safety color codes.
That bring said, most ladders are color-coded, but some folks would rather stick to the antique method of finding out the weight capacity/rating of the ladder before buying than depending on color codes.
So, how does all this add up?
It's worthy to note that, even though color-codes are very effective, innovative, and more communicative, they aren't a global choice. Still, you must choose the one that is compatible and follows the OSHA or ANSI guidelines while purchasing your ladder.
What Does The Different Types Of Ladder Color Code Mean?
Ladder color codes are important for identifying the load capacity of a ladder. So, you can use the color of a ladder to specify how much load the ladder can carry without resulting in a crash.
Basically, there are three major types of ladder classification. Each of these has its unique lengths, functionalities, and colors.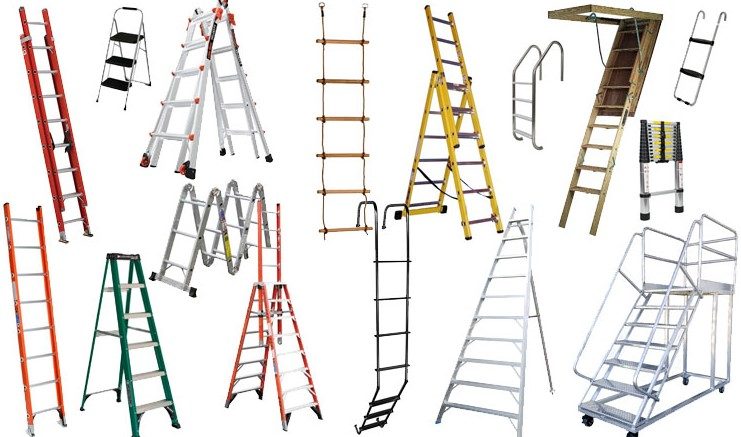 This is important for you to understand because you must know the right ladder for every situation as different ladders have different load capacities.
So, you can't use a Type 3 ladder for a task that needs a Type 1A or Type 1AA ladder, as it can cause a fatal accident for you. Besides, although we stated that there are three major ladder categories, you should know that the Type 1 ladder has two subcategories under it.
But what does these categories and subcategories mean? Don't worry, I won't leave you hanging with the question.
Ladders typically follow the ANSI or OSHA standards for ladder safety. Now that we've established that let's look into the types of ladders and what their color codes mean.
1. ANSI Ladder Color Codes
ANSI is the abbreviation of the American National Standards Institute, and they're responsible for ensuring and reinstating the conformity assessments and standards in the country. However, ANSI codes are famous for their high reputation in their standards.
We are considering the ANSI ladder color codes in this segment, so briefly, let's outline them. ANSI color codes include- red, yellow, orange, green, grey, purple, white, black, and blue. Also, you can sometimes see a combination of yellow, black, or white.
Below, we have outlined the different meanings of the ANSI color codes.
Red
Red, we all know, signifies danger and signifies fire equipment. Also, red signifies that an object contains flammable liquid. In addition, the red ladder signifies the stop sign.
Orange
The color orange signifies that an object or equipment is comprised of high energy or is dangerous.
Yellow
When it comes to safety, the color yellow signifies caution. It basically informs you to tread carefully in whatever you're doing. Usually, the sign comes with a thunder strike or falling clip art for you to understand.
Green
The green color signifies additional help. For example, a piece of first-aid equipment.
Blue
The color blue shows that there's no immediate need for safety precaution, as the object or location is safe from hazards. A similar case is that of property policy.
Black, White, Purple, and Grey
You determine these colors. They can be, for whatever purposes you specify them to be, just in case you have several other ladders with varying specifications and functionalities.
Similar to the ANSI ladder color code is the OSHA color code. OSHA color codes specify safe zones and safety equipment. Thus, OSHA had also endorsed the ANSI ladder color codes.
Some ladder types, however, are high-efficient, multi-purpose, and don't necessarily depend on color codes, such as the lightweight telescoping folding ladder. So you may have to consider ratings in that case.
ANSI Ladder Ratings:
| Duty Rating | Ladder Type | Working Load (pounds) |
| --- | --- | --- |
| Special Duty | IAA | 375 |
| Extra Heavy-Duty | IA | 300 |
| Heavy-Duty | I | 250 |
| Medium-Duty | II | 225 |
| Light-Duty | III | 200 |
Learn more about ANSI ladder ratings.
So, let's take a look at the ladder color rating below.
Ladder Color Rating

As I've said before, ladder color codes are there to make it easier for buyers to understand the duty rating of a ladder by just looking at it. Currently, the two most used ladders, which are the stepladders and extension ladders, are classified into four different categories, and they include
Household Ladders
Commercial Ladders
Professional Ladders
Industrial Ladders
In simple terms, the ladder color rating implies that the ladder's color signifies the load capacity of the ladder and its working duty. Also, as we've seen before, there are three types of working duty for ladders. These include the following:
Lightweight duty ladders.
Medium weight duty ladders.
Heavyweight duty ladders.
To give a more different light on the various ladder ratings based on their categories, let's consider the next section.
2. Werner Ladder Color Code
Werner Ladder is one of the most popular brands that color-code their ladders to signify the load capacity. However, the company is distinctively outstanding because they color-code their respective ladders to specify the load capacity of the various ladder types as well as the materials.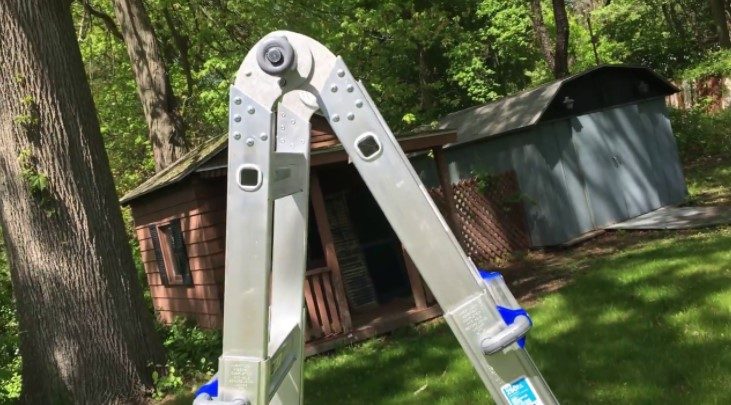 We'll go through the various ladder color codes and the ways they differ from each other. But before then, let's understand the distinctive ladder parts that are color-coded.
Werner Step Ladders
Werner step ladders that comprise aluminum have their top caps and bases colored. Thus, signifying the color codes. But, the fiberglass color codes the ladder frames to signify the color codes.
Werner Extension Ladders
Werner extension ladders comprise aluminum, and their color codes are signified on the caps, ropes, and base of the ladder.
For the Werner fiberglass extension ladder, the color codes are specified on the ladder frames.
Now that we've seen all that let's look at the color codes for the ladders made with fiberglass and aluminum, respectively.
Color Codes for Extension Ladders and Step Ladders made with fiberglass
Red: The Red color code signifies ladders that can carry the least weight capacity. Its load capacity is 200 pounds and coded using the ANSI code type 3.
Green: The Green color signifies ladders with a higher carrying capacity. Ladders in this category can carry loads of up to 225 pounds and follow the ANSI code type 2.
Blue: The Blue color signifies ladders that have a load capacity of 250 pounds. It is coded with the ANSI code type 1.
Orange: The Orange color has a carrying capacity of over 300 pounds. It is also categorized as a heavy-duty ladder under the ANSI code type 1A.
Yellow: Then, we have the highest weight capacity of Werner Ladder. However, it is categorized under the ANSI code type 1AA and carries a capacity of 375 pounds.
Color Codes for Extension Ladders and Step Ladders Made with Aluminum
Red: Like the fiberglass counterpart, the red color signifies aluminum ladders that can carry a lightweight load. Thus, it can carry up to 200 pounds and is categorized under the ANSI type 3.
Green: The green color signifies a lightweight load capacity and carries a load of up to 225 pounds. Therefore, it is also coded under the ANSI code type 2.
Blue: Blue signifies the medium weight duty, and the ladder has a load capacity of 250 pounds. It is coded under the ANSI code type 1.
Orange/Black: This color signifies a heavy-duty ladder classified in the ANSI color code type 1A. Initially, it was produced with black ladder caps, but just recently, some caps are now orange. It can carry a load of up to 300 pounds.
Yellow: This is the highest load-carrying ladder of this brand. It has a weight capacity of 375 pounds and is classified under the ANSI code type 1AA.
3. Louisville Ladder Color Code
Louisville Ladder was the very first company to implement color-coding on their ladders in an effort to explain their ladders' weight-carrying capacity in the equipment sector. The company majorly produces extension ladders, platform ladders, and even step ladders.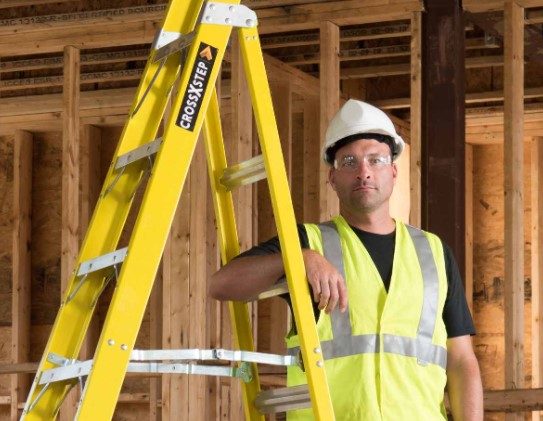 Below are the five color code specifications for Louisville Ladders:
Red:This color code signifies ladders that can function for lightweight purposes. For example, ladders painted red have a carrying capacity of 200 lbs. (or 200 pounds). This weight capacity includes the user's weight and the additional tools he/they might carry.
Green: The color ladder can carry a weight capacity of 225 lbs.
Yellow: The yellow ladder has a weight capacity of 250 pounds.
Orange: The orange ladder is a heavy-duty ladder and can carry a weight capacity of 300 lbs.
Black: The black color code is the highest load-carrying ladder the Louisville Ladder currently has. It can sustain up to 375 lbs of weight carrying capacity. It is usually used for industrial purposes and functions for very tough construction operations.
Also, the company's ladder color code manual includes some other useful information, including what the ladders are safe to be used on and the materials used in manufacturing them.
Aluminum Ladders vs Fiberglass Ladders – Which One Should You Choose?
Aluminum is durable and doesn't corrode easily. However, you should not use aluminum ladders in places where the ladders can come in contact with electricity.
Alternatively, fiberglass functions more effectively as you can use it in areas around electricity and under various weather conditions. This is because the fiberglass is non-conductive and also doesn't erode under extreme weather conditions. It is strong, durable, and effective for use under heavy-duty operations.
However, fiberglass is less durable or corrosion-resistant than aluminum and require more maintenance.
Final Words
Ladder color codes are ideal for helping buyers know certain ladders' load capacity, thus, ensuring safety. However, manufacturers used the color codes to simplify the process for buyers to tell the specifications just by seeing the ladders.
There are various color ratings for these ladders, and each has its functionalities, limitations, and lengths. So, you should consider these factors before making a buying choice.