Thinking about the next time you might slip off your ladder again?
Well, you are not alone. While boats are fun, getting on them can be troublesome for your aged muscles.  This is a problem faced by most elderly boat users.
As your age grows, your body is no longer responsive to the lack of grip on the ladder or the lack of footing space. That is where boat ladders for elderly come in handy. They are designed so that regular users and the elderly can get on board safely and comfortably.
We have covered a few of the most convenient ladders so that you can have them for your boat, dock, or swimming pool.
Table Of Content:
What Safety Precautions Should Be Taken When Climbing A Boat Ladder By An Elderly?
Boat ladders can be risky if not used with caution. And if you are elderly, there are a lot of steps you need to follow properly to get on board safely. Below are a few of them:
Each part of the ladder needs to be checked to see whether you have any loose attachments or not.
Always face the ladder while going up or down.
Make sure your body remains centered between the side rails.
There should be enough lighting to see the steps properly. You should make use of artificial lighting in the dark.
Try to maintain a three-point contact. That means your two hands should be on the ladder along with one foot. Or your two feet should be on the steps along with a hand on the rails.
Your hands need to be non-slippery for a firm grip.
Make sure your footwear is free from mud, ice, grease, or ice.
Have your feet placed firmly on each rung.
If there is a long queue before the ladder, wait for your turn. Never get onto the ladder two people at a time. You can have someone near the ladder to help you in case of any inconvenience.
Comparison Chart:
[table id=4 /]
9 Best Boat Ladders for Elderly 2021
Getting a boat ladder can be tricky. You need to get the type, size, and quality right for the ladder to perform as you expect. Below are some of the most sought-after and top-rated boat ladders for you to pick from.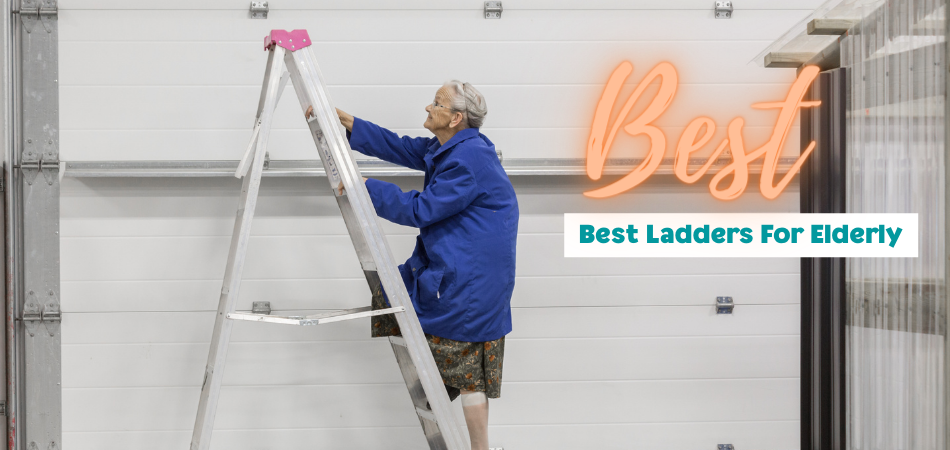 1. Marinebaby 4 Steps Pontoon Boat Ladder: Editor's Pick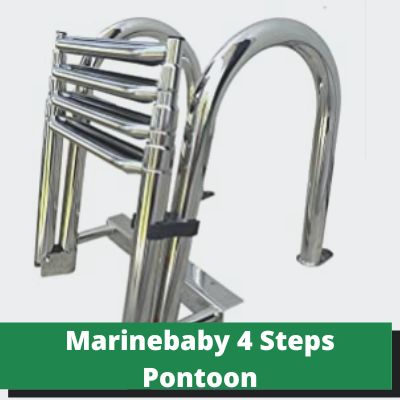 Marinebaby has been offering durable and elegant boat ladders for quite a time. This baller is no exception. The high-end 4-step telescopic boat ladder features quality materials throughout the build.
It's based on high top-end stainless steel construction that can resist damage in salty waters with ease. That means you can now travel far and wide without worrying about the corrosion of your ladder.
What you will find amazing right out of the box is the mirror-polished look the ladder boasts. The sleek design looks elegant and will certainly enhance the beauty of your boat.
The ladder makes no compromises regarding safety and comfort. It features extra-wide steps for you to place your feet effortlessly. The anti-slip rubber on the steps offers a grippy surface and thus reduces the chances of slippage. That along with the long handrail will make boarding both easy and safe.
You won't be having any worries about installation as the process is quite easy. The ladder can be bolted onto any horizontal platform of your boat or side railings offering versatile usage. Besides you also have the option to use it as a low-profile dock ladder for further convenience.
Featuring a max weight capacity of 600lb, this well-built ladder is capable of offering lift to any passenger. This goes to show how robust this masterpiece has been designed. A velcro strap holds the ladder in a non-extended position for traveling convenience.
Technical Details
Brand: Marinebaby
Color: Silver
Material: Stainless Steel
Weight Capacity: 600lb
Package Dimensions: 5 x 20.55 x 8.5 inches
Package Weight:95 Pounds
Maximum Height:38 Inches
Conclusion
If you are looking for a well-built elegant ladder for your pontoon boat, this baller might be the one.
2. HOFFEN Boat Ladder Docking Ladder: Premium And Sturdy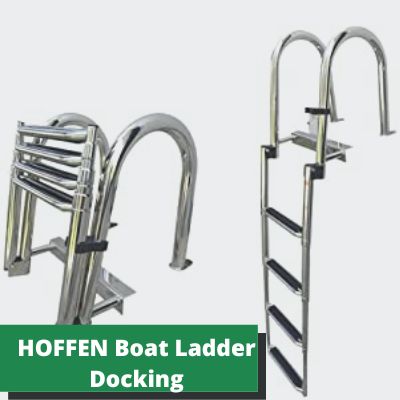 Next up on the list is a top seller from Hoffen. The extra-wide telescopic steps and comfy boarding make it one of the best boat ladders for elderly people. Let's see what makes this particular ladder so popular.
What you will notice first hand is the 316 heavy-duty stainless steel construction the ladder comes with. This makes sure your ladder will be in pristine form even in rough conditions like deep seawater.
It features a universal self-supporting design which eliminates the need for any tube support. With all the fuss gone, your installation task will be done in a breeze. The extra-tall handrails make it easy for passengers to get on. Thus anyone getting on your boat will have all the comfort in hand.
The ladder is shiny and sleek on the outside and robust on the inside. It features a weight capacity of 600 lb and will provide the perfect support for anyone light or overweight. This will offer you peace of mind as any collapse during onboarding may result in accidents especially for the elderly.
It extends from a minimum height of 444mm up to 1095mm offering you a greater scope of usage. A Velcon strap holds the ladder in a non-extended position keeping it both safe and compact.
The anti-slip rubber coating on top makes sure your feet remain firmly placed on the steps in slippery conditions. It's due to the skid-proof nylon step you will have the confidence to get on board with ease.
Technical Details
Brand: Hoffen
Color: Silver
Material: Stainless Steel
Product Dimensions: 43 x 15.3 x 16 inches
Product Dimensions: 19 Pounds
Load Capacity: 600 Pounds
Conclusion
With so much quality and comfort that comes with the ladder, your growing age won't slow you down.
3. RecPro Marine ADL-A4W: Simple And Handy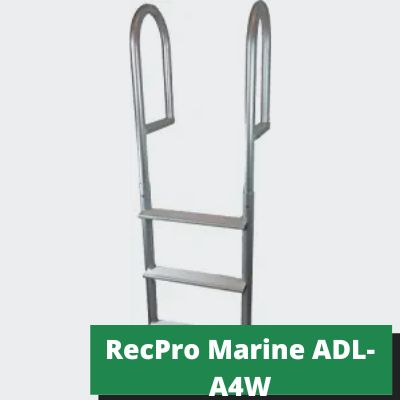 Looking for a simple yet durable dock boat ladder? Have a good look at this utility ladder from REcPro.
It comes with a four-step construction that makes it ideal for docks and pier usage. The steps are placed at a convenient distance so that you don't have to struggle to get to the top.
The clear anodized finish on the ladder offers superior corrosion resistance. Thus you can have it placed in salty water and still be relaxed about its durability. Its extra tall handrails on top offer you optimum assistance and ensure safety.
It's not all sunshine though. The ladder has a weight capacity of 300 lb. Thus you need to be careful about the user's weight to avoid any accidents. Apart from this, the ladder ticks all the boxes as a reliable pick for everyday use.
Technical Details
Brand: RecPro
Color: Anodized
Material: Aluminum
Package Dimensions: 60 x 25 x 9 inches
Package Weight: 25 Pounds
Load Capacity: 300-lb
Conclusion
It's a great ladder for the price. Simple and sturdy ideal for rough usage.
4. Extreme Max 3005.3383: Best Detachable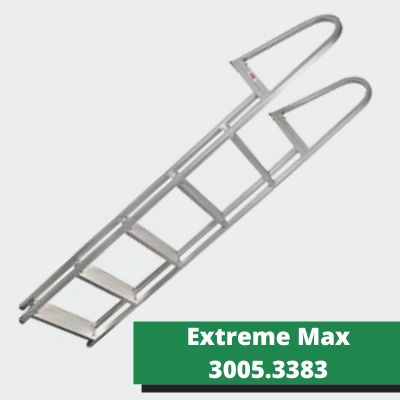 Extreme Max has been a brand well associated with outdoor adventure seekers. This multipurpose ladder from them goes to show why.
The ladder can be used on your pontoon boat, end of your dock, or even in a swim raft. Thus you are not limited in terms of options for summer fun any time of the day and anywhere.
You won't be making any compromises in terms of quality either. The ladder boasts a heavy-duty aluminum construction and is angled for convenience. This ensures that the ladder is capable of taking minor hits as you part the boat near docks.
The lightweight ladder packs all the essential comfort features as well. With built-in angle steps for boarding, your daily usage will be effortless. The extra-wide steps ensure a safe footing for the elderly being 11.5 inches apart.
What you will love is the easy relocation mechanism of the ladder. It comes with a footman relocation kit which you can purchase for easy installation anywhere. Just mount the ladder with the relocation kit and you are good to go.
Technical Details
Brand: Extreme Max
Material: Aluminum
Package Dimensions: 78 x 7.8 x 4 inches
Package Dimensions:95 Pounds
Weight Capacity: 300 lbs
Maximum Height: 57 Inches
Conclusion
It's the ideal pick for versatile usage. Can be installed at multiple spots with ease.
5. Amarine Made Deck Ladder: Well Balanced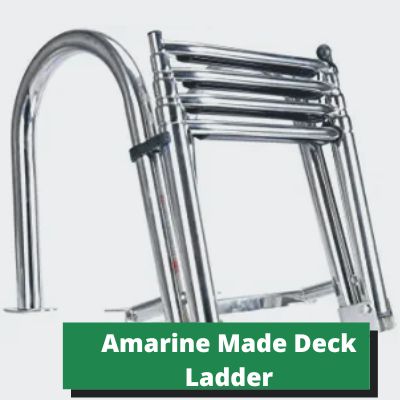 This one has caught our attention due to its robust construction and sleek design. The foldable boat ladder from Amarine Made comes with a heavy-duty 316 stainless steel build. Its self-supporting design makes mounting it a breeze and looks pleasing to the eye.
It features shiny and sleek round tubing which will offer an elegant touch to your plankton boat. The tall ladder boasts wide steps making it easier to get on board irrespective of people's size and weight.
What makes this bomber one of the ideal boat ladders for elderly is its offerings for adventure seekers. If you have gained some age and still have the thirst for swimming or diving, this will have you covered.
The ladder features threaded steps made of rubber which will keep your feet safe from accidental slippage. Besides the ergonomic design of the steps along with comfy handrails make sure you feel confident even wearing heavy-duty gear.
Boasting a proven weight capacity of 400lbs, this gem of a ladder can easily offer you years of heavy usage. What's more impressive is the fact that the ladder can carry up to 900 lbs on limited occasions too. All the goodies along with an easy foldable mechanism have made this ladder a purchase you won't regret.
Technical Details
Brand: Amarine Made
Material: Stainless Steel
Package Dimension: 21 x 18 x 6 inches
Package Weight:25 Pounds
Maximum Height: 38 Inches
Weight Capacity: 400 lb
Conclusion
It's an all-rounder in terms of rear entry foldable ladders.
6. RecPro 5 Step Removable Boarding Boat Ladder: Best Tall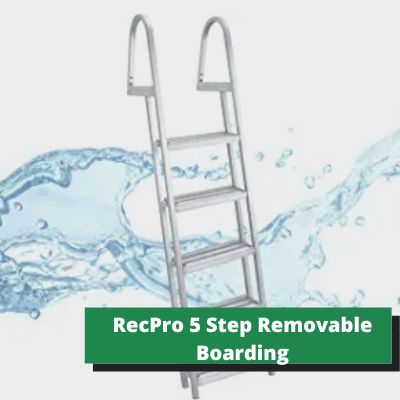 Looking for boat ladders for seniors that go deep into the water? This tall and removable boarding ladder from RecPro will have you covered.
The five-step aluminum ladder reaches the depth of water your traditional ladder cant. Reaching 60 inches below the water surface, it preserves the fun of diving and similar water sports.
Being tall and wide, the ladder facilitates any party you would want to throw on your boat. The heavy-duty boarding steps make sure your guests get plenty of room to place their feet and feel safe.
The tall handrails on the ladder make reaching your boat, the dock, or the water comfier. What you will find handy is the removable feature of the ladder. Being huge, you wouldn't want this ladder to take up all that space.
The space issue is solved with the help of quick-release hardware. This allows you to quickly detach the ladder and store it in safe storage. Besides this also allows you to use the ladder in multiple spots offering more value for the price.
Technical Details
Brand: RecPro
Color: Anodized
Material: Aluminum
Package Dimensions: 79 x 15 x 4 inches
Package Weight: 19 Pounds
Weight Capacity: 300 lb
Conclusion
It's a great pick for fun lovers. The ladder goes deep into the water. If you have large storage space, this is the one.
7. Weyleity Premium Boat Ladder: Best Compact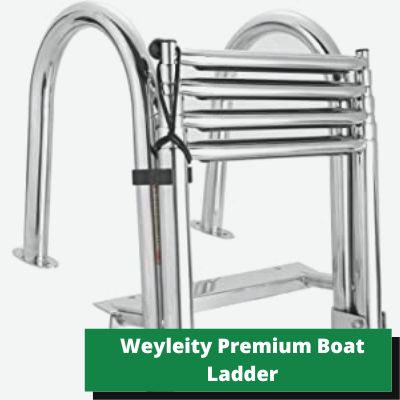 Weyleity has seen a rapid rise in popularity with its compact and customer-friendly offerings. This compact gem of a ladder goes to show why.
The four-step ladder boasts incredibly tough 316 stainless steel construction. This makes sure the ladder offers strong resistance against corrosion regardless of water and weather conditions. Thus your ladder will retain its performance and looks for years to come.
Thanks to the superior grip on the ladder steps, you won't be having any worries about wet feet. It features  PVC pad groovings on the steps which offers you a solid footing while you return onboard from water.
What makes the ladder apart from the rest is its super easy collapsible design. It folds down to a compact shape making it ideal for your small boat, dock, pool, or ship. The compact form also makes storage a breeze.
The ladder packs all the essentials a well-built boat ladder should. Its curved handrails make boarding comfortable and reliable. That along with the simple assembly process makes it an option you can't resist.
Technical Details
Brand: Weyleity
Material: Plastic
Package Dimensions: 20 x 18 x 4 inches
Package Weight: 30 Pounds
Maximum Height: 43 Inches
Weight Capacity: 400 lb
Conclusion
The ladder is a good pick for small boats, ships, and docks due to its solid collapsible design.
8. VEVOR Retractable Dock Ladder: Safe And Versatile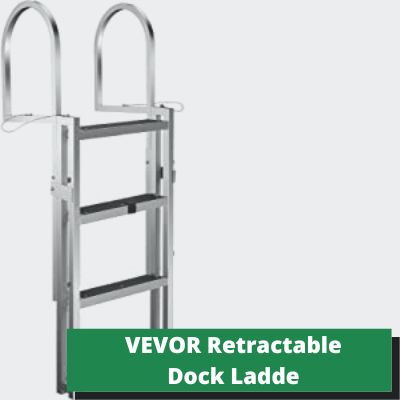 Up next on the list is a top seller from Vevor which has won over the users with its wide adjustability.
The ladder comes with an aluminum construction which is both lightweight and corrosion-resistant. Being lightweight, the ladder ensures portability to be used for different applications. The tough aluminum construction makes sure you get top value for the bucks in terms of reliability.
Its superior construction is proved by its respectable weight capacity. Being able to carry 350lbs weight, the ladder is ideal for most family usage. Thus your kids, guests, and relatives can board your boat with full safety.
What you will find impressive is the attention to details the ladder boasts. Each step of its steps is engineered carefully using a protective rubber mat and a reinforced base. This ensures you optimum footing and thus offers slip-free boarding.
The versatile ladder can be used in your ship, swimming pool, or dock with utmost comfort. Its polished handrails, strong welded joints, and adjustable height make sure the ladder shines anywhere put into use.
Technical Details
Brand: VEVOR
Material: Stainless Steel, Aluminum
Product Dimensions:2 x 18.5 x 4.3 inches
Product Weight:95 Pounds
Maximum Height: 65 Inches
Weight Capacity: 350 LBS
Conclusion
It's a good pick if you are looking for an under-mount design ladder. It's both versatile and adjustable.
9. BestEquip Aluminum Dock Ladder: Portable And Durable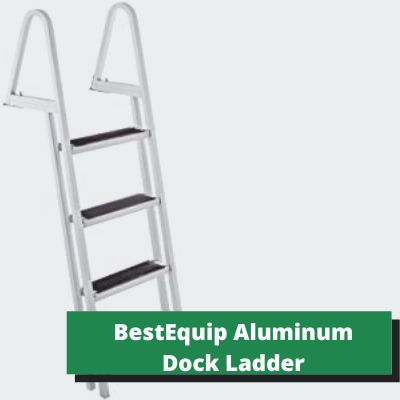 Last up on the list is a banger from BestEquip. It boasts a lightweight and durable aluminum construction. Though being lightweight, the ladder packs a punch and offers superior resistance against rust.
What sets this baller apart from the competition is its detachable frame. Thanks to the lightweight construction along with the detachable feature, the storage, and portability of the ladder become a breeze.
All those handy features don't come at the cost of safety. The ladder packs an anti-skid rubber mat with each step to prevent slippage. Thus the 16-inch steps ensure reliable footing whether your feet are sandy or muddy.
The ladder offers a double angled guardrail that feels soft to the palms. This ensures you the added support required to get onboard at your old age. With effective welding on the dock stairs structure, your ladders become capable of carrying heavy loads.
This well-balanced ladder fits most of your daily needs. You can have it placed in your ship, swim raft, or at the end of the dock and get reliable service for years to come.
Technical Details
Brand: BestEquip
Material: Aluminum
Product Dimensions:2 x 15.4 x 3.2 inches
Product Weight: 16 Pounds
Step Dimension: 16″ x 4″
Step Number: 4
Conclusion
It's a good pick as a lightweight and portable ladder with good safety features. Great value for the price.
Factors To Consider Before Buying A Boat Ladders For Elderly
Now that you are looking for the best boat ladders for elderly people, you should consider these factors while purchasing one.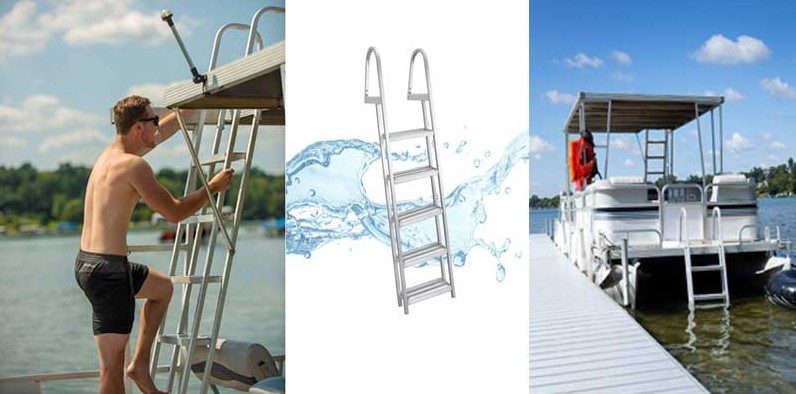 No Of Steps
With age comes the necessity of safety. Your body is not capable of enduring sudden movements as it used to a few years back. Thus the safety profile of your ladder plays a big part here.
You need to find a ladder with the right amount of steps that you are comfortable with. The gap between the steps shouldn't be too hard to reach and not too small to be cramped for space.
What you need to keep in mind are the scenarios you might be using the ladders. A long ladder will come in handy in case you are always looking for adventure. The added height will make sure getting onboard always remains in your reach both in docks and in deep water.
Fixed Vs Removable
This is another crucial factor to take into consideration. There are both fixed and removable ladders for you to pick from. Both types come with their fair share of advantages and disadvantages.
Fixed ladders are the ones you mount on the boat once and use them the same way every time. These are great if you are always in a hurry as you can hop onto the boat and get the engine roaring in no time.
The downside here though is the longevity of the ladders. Since these ladders are always in the water, they are more prone to rust and similar damages. They also lack versatility as they are mounted at a fixed position.
Removable ladders on the other hand can be useful in a variety of circumstances. Depending on the demand, you can mount the ladders in any way you want and take them off after usage.
As these ladders are taken off after use, they offer a better service life compared to fixed ones. The only downside here is they take more space which can be a major issue for smaller boats.
Step Size
Step size plays a big role in ensuring safety while using the ladder. A bigger-sized step will offer you more resting space to place your foot. Thus you will have better stability and control over your movements.
Can It Carry Your Weight?
The last thing you want is your ladder to break down due to your weight. Thus you need to look for the max recommended weight of the ladder while you make a pick.
A ladder with a lesser weight capacity will be lighter and easy to carry. On the other hand,  the one built to carry more weight will be durable and reliable. To be on the safer side, look for ladders that support at least 250lbs. You can also look for stronger ladders in case you will have overweight visitors on your boat.
Step Support
A bit of support always comes in handy. Most of the boat  ladders for seniors these days come with handrails for battery support. Thus make sure your ladder comes with side rails or top rails for a firm grip.
Is It Slippery?
A slippery ladder step can cause minor or fatal injuries. To tackle that, manufacturers use treading or anti-skid coating on the steps. You will find a rubber-like material on threaded steps that offers a greater friction surface. These ensure you the much-needed grip on wet conditions and thus reduces the chances of injuries.
Frequently Asked Questions
Here are brief answers to a few of the most common questions that get asked while purchasing a boat ladder.
How to Clean Polished Stainless Steel Ladders?
You can simply use a toothbrush to reach each corner and angle. Besides, you can use wax or marine cleaners for stains and then polish the ladder when the time comes.
How do I get a wheelchair on my boat?
You can use a ramp for this purpose. Pontoon boats are easier for getting wheelchairs on board. They have flat decks for you to move around.
How Can I Stop Folding Ladders from Slipping?
Wrapping a bungee cord around the folding ladder will help it gain better stability and thus prevent slipping.
How do disabled people get into boats?
Disabled people need to be taken on board very carefully. A pontoon boat can be a good choice as its decks are at a similar level to the docks.
What Pieces of Mounting Hardware are Needed for Pontoon Boat Ladders
Common hardware used for mounting pontoon boat ladders is the Hinge guard, Boarding handrail, and Keyhole mount.
Final Thoughts
A good boat ride can make your day. They offer the much-needed recreation required at your old age. But before that, you need to get on the boat safely and comfortably.
These boat ladders for elderly mentioned on top are a few of the ladders designed considering the comfort of elders. In case you are confused about which one to pick, the Marinebaby 4 Steps Pontoon Boat Ladder is a good option. It boasts superior build quality capable of withstanding 600lb weight, folding design, and offers elegant looks too.